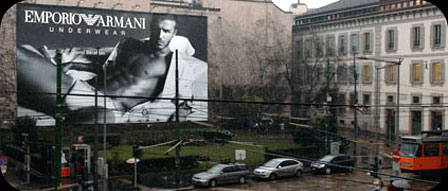 Hillary Clinton, John McCain take New Hampshire primary, defying poll predictions.


Bill O'Reilly in NH "dust-up" with Obama aide; here's the real footage.


Bible-beating actor Stephen Baldwin: Gay marriage not acceptable.


Epiphany: Bulgarian men don Speedos, plunge into icy lake in race for wooden cross.


Pimp My Son: The "Gay Math" of Desperate Housewives.


Celine Dion: I'd love my gay son.


Andrew Morton tell-all: Tom Cruise is Scientology's #2 guy.


George McGovern urges impeachment of George W. Bush and Dick Cheney.


David Beckham erection marks start of fashion week in Milan.


FLASHBACK: Mike Huckabee congratulates Canadians on their national igloo.


John Barrowman, James Marsters, and Milo Ventimiglia mix it up.


The graying of the AIDS epidemic: the downside of living longer…


British actor and comedian Stephen Fry: playing gay is not courageous.


THE TUBE: Hillary tears – analyzed, Ron Paul mob, Radical Cleric, Torchwood, lipstick!


Gay Vallejo mayoral candidate Gary Cloutier files lawsuit challenging recount.


South African gay activist and Nobel Prize nominee Zackie Achmat marries partner.


Ron Paul newsletters reveal ugly racist, homophobic artifacts of candidate's past.


Crystal Island: Largest building in the world planned for Moscow.

Roddick, Safin, Nadal, Murray: Tennis players shed shirts in extreme Melbourne heat.


Kathy Griffin shows off Advocate muscleman "cover try" on Jimmy Kimmel.


Canada bans sexually active gay men as organ donors.


Florida still after Mark Foley; Larry Craig still looking to withdraw guilty plea.


Chris Matthews: Hillary Clinton rode coattails of Bill Clinton's infidelity.


MUSIC: Sarah Cracknell, The Feeling, Radiohead, Juno, Apple, Mariah Carey.


Rep. Barney Frank defends the "fights of the 90's".


New Horizons probe swings past Jupiter and its volcanic moon Io.


Bill Richardson ends presidential run; Anne Rice endorses Clinton/Obama ticket.


Castro Street to undergo "time warp" back to the 70's for filming of Harvey Milk biopic.


Openly gay Paris mayor Bertrand Delanoe targeted by Islamic radicals?


FABRICATION? Pentagon now casts doubt on legitimacy of Iranian naval provocation.


Mother of hate crime victim to speak at 'Gay American Heroes' benefit.


Marc Jacobs: Victoria Beckham makes debut as a bag lady.


Gay vegetarian Michael Stipe hearts Huckabee, but he's not sure why.


Artist Ross Bleckner to dish it with gay NC Senate candidate Jim Neal.


NFL defensive tackle Warren Sapp retires after 'gay porn' incident.

DON'T MISS THESE DUDES IN THE NEWS: Chad White, Federline, Prince William, T.R. Knight, Chace Crawford, Gerard Butler & Jason Statham, Merv Griffin, Zac Efron & Elijah Kelley, Henry Cavill.