Cody Castagna, the escort involved in the late-night sexual rendezvous with former Washington state Rep. Richard Curtis which led to the lawmaker's subsequent resignation, who in December was charged on six counts by Spokane County prosecutors including theft, conspiracy, and extortion, has pleaded not guilty on all six counts.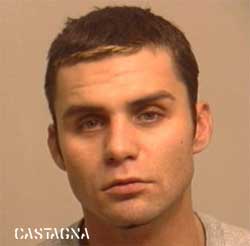 The AP reports: "Prosecutors contend in court documents that Castagna and three other men attempted to blackmail former Rep. Richard Curtis in October. Curtis, a Republican from the southwest Washington town of LaCenter, said in police reports that he and Castagna had sex in a hotel room and that Castagna later took his wallet and threatened to expose him publicly if he did not pay $1,000."
Spokane County Superior Court Judge Jerome Leveque has set a trial date of April 7th.
Curtis, a married man who exposed his secret life by making the initial reports of Castagna's crime to the police, resigned at the end of October. Not only did the incident ruin his career and embarrass him, it exposed him as a hypocrite with an anti-gay voting record: "Elected to the state House of Representatives in 2004, Curtis has voted like a fiscal and social conservative. This spring, he voted against domestic partnerships for gay and lesbian couples. Last year, he opposed a gay rights bill that banned discrimination on the basis of sexual orientation."