I thought this case was pretty much over last August, when it was reported that The Florida Department of Law Enforcement wanted to wrap up their investigation of Former Rep. Mark Foley, and his communications with underage pages.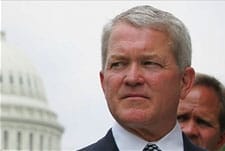 At that time, FDLE spokesperson Heather Smith told the AP: "We have requested to review federally owned computers that Mr. Foley used during his time as a representative, but the U.S. House of Representatives … cited case law restrictions that prohibited them from releasing those computers."
It appears that the FDLE is still pursuing the case. The Blotter reports that as recently as last month the FDLE sent a letter to House Speaker Nancy Pelosi requesting access. Wrote Commissioner Gerald Bailey to the Speaker: "We are respectfully requesting access to any and all computer equipment that the U.S. Government possesses that former Representative Foley utilized during his time in office."
According to Pelosi's spokesperson, her office is preparing a response., wants to cooperate, and is consulting House lawyers.
Previously
Mark Foley Investigation Stymied by Lack of Access to Computers [tr]