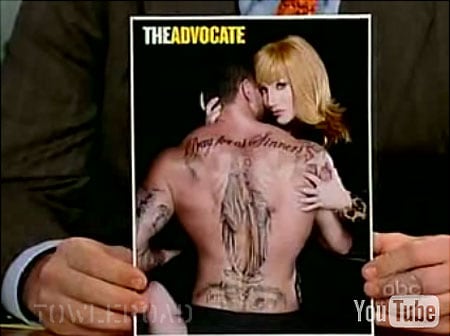 Monday night on Jimmy Kimmel, Kathy Griffin showed off a recent photo shoot she did for The Advocate.
GRIFFIN: This is what's called a "cover try". Being on the D-List, they won't just put me on the cover, so they told me I was a "cover try" so I may or may not end up on the cover but I love this photo shoot because it's airbrushed beyond belief, which is key, but it's me also just hugging a hot gay guy. And, uh…
KIMMEL: Is he gay, the guy?
GRIFFIN: I think so! The only straight guy who has that body is in prison and not at a photo shoot. But the photographer…has hooked me up with this gorgeous guy who coincidentally had this tattoo, and you know, me, shaking it up with the Jesus people is perfect. Now would you ever do the cover of The Advocate?
KIMMEL: Yeah sure, not that they'd ask me but…
GRIFFIN: I was gonna say I don't know if the gays want you but, I'm going to be honest.
KIMMEL: I don't think they probably do, but I'd do it with my shirt off for sure.
GRIFFIN: You would have to not eat for like 45 days in a row.
KIMMEL: Oh forget about it.
GRIFFIN: What? It's hard to be gay.
KIMMEL: The not eating thing is no good for me. I'd be just a fat gay, that's all.
GRIFFIN: They don't call themselves fat gays. You have to pick a category.
KIMMEL: I'd be a Vilanch.
GRIFFIN: He's a bear! You could be a cub! The bears like to mix it up with the cubs in the woods.
KIMMEL: We're gonna take a break . If you are a bear or a cub or a twink or even just a normal schlub, this Saturday at the Kodak Theater Kathy Griffin is there…
Here are the clips:
Griffin also dishes on pissing off Catholics, Michael Vick and PETA, gay people, Jimmy Kimmel's "bear" qualities, her New Years Eve stint with Anderson Cooper, her romance with Apple co-founder Steve Wozniak, and his Prius, and Oxygen's list of the funniest living women.
You may have missed…
Towleroad Guide to the Tube #217 [tr]
Kathy Griffin Rips Catholic League's Bill Donohue a New One [tr]
Christian Theater Group Spends $90K to Condemn Kathy Griffin [tr]
Kathy Griffin Wins Emmy, Gets Censored for Jesus Remark [tr]