Time magazine looks at the 15th anniversary of "Don't Ask, Don't Tell": "The issue exploded during Clinton's first week as President, triggered by those in the Pentagon and on Capitol Hill opposed to his campaign pledge to reverse an executive order barring gays and lesbians from serving. 'The issue is whether men and women who can and have served with real distinction should be excluded from military service solely on the basis of their status,' Clinton said at the time. 'And I believe they should not.' While the phrase 'don't ask, don't tell' wasn't used at that January 29, 1993, press conference, that's what everyone soon began calling the policy."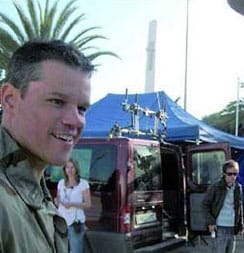 Not that Oz: Matt Damon in the Emerald City.

Diana Ross BOOED in Jamaica: Not ready for her close-up.

200 Mexican youths and parents march to raise awareness about HIV/AIDS: "Participants marched through the city's main streets chanting slogans, such as 'Not One More Infected Person' and 'Equal Rights for Young Homosexuals.' Some of the participants also dressed in costumes and distributed condoms. Josue Quino, head of the CAIPAJ gay adolescent and youth center, said the march was necessary to warn youth that a 'single unprotected [sexual] encounter is enough to' contract HIV. Members from the Group of Mothers and Fathers for Diversity also marched in the demonstration, carrying signs that said 'We're Proud of Our Children' and 'Our Children Have United Our Families.'"

Manchester UK police investigate rape at gay sauna.

Clay Aiken: no love.

Which one's Twiggy, which one's Keira Knightley?

Barbara Walters bans Kathy Griffin from The View…again. Griffin: "I was supposed to be on 'The View' [today]. But then I get a call from [producer] Bill Geddie and he says, 'You were too mean to Barbara [Walters] on your last special, so you can't come on.' Can you believe it? I've been banned before, but never re-banned!"

Scammer, posing as Heath Ledger's father, takes advantage of doctor, funeral home, Tom Cruise, and John Travolta: " Cops want to arrest the con man on fraud and larceny charges, and sent detectives to Ledger's wake at the funeral home Friday in hopes of catching him, Police Commissioner Ray Kelly said. But police do not know the identity of the impostor – who also tried to finagle from one unidentified Hollywood star the numbers of actors Mel Gibson and Christian Bale, who have co-starred in movies with Ledger."

Michael Jackson to get additional reconstructive surgery — this time to his album Thriller.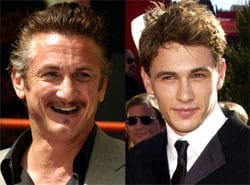 Method Acting: Sean Penn and James Franco, playing Harvey Milk and his lover Scott Smith, respectively, in the Gus van Sant biopic Milk, reportedly wanted to shack up together for a while before filming started to get to know one another, but due to scheduling difficulties, those plans fell through.

Study finds middle age is truly depressing: "For men and women the probability of depression slowly builds and then peaks when people are in their forties — a similar pattern found in 72 countries ranging from Albania to Zimbabwe, the researchers said. About eight nations — mostly in the developing world — did not follow the U-shaped pattern for happiness levels, Oswald and his colleague David Blanchflower of Dartmouth College in the United States wrote. 'It happens to men and women, to single and married people, to rich and poor, and to those with and without children,' Oswald said. 'Nobody knows why we see this consistency.' One possibility may be that people realize they won't achieve many of their aspirations at middle age, the researchers said. Another reason could be that after seeing their fellow middle-aged peers begin to die, people begin to value their own remaining years and embrace life once more. But the good news is that if people make it to aged 70 and are still physically fit, they are on average as happy and mentally healthy as a 20-year old."


German airline to offer nudist flight.

Italian MP called 'faggot, fairy' and 'traitor' for voting against party lines in order to defend Italian Premier Romano Prodi: "The name-calling erupted on the floor of the Italian Senate on Jan. 24 as Sen. Stefano 'Nuccio' Cusumano shocked fellow members of the tiny Udeur Party by declaring his support for Prodi. The party decided a week earlier to withdraw from Prodi's fragile ruling coalition, forcing a 'confidence' vote under Italy's parliamentary system. The Senate voted 161 to 156 to defeat a resolution of confidence for Prodi, forcing him to resign immediately. Although the Udeur Party had helped Prodi form his center-left government in 2006, the party strongly opposed legislation backed by Prodi to provide legal rights and benefits for same-sex couples."

Gay Fort Worth city councilman Joel Burns talks to the Victory Fund, calls anti-gay attack a galvanizing moment: "That morning was an awful, terrible, not good morning. I thought of my mother and father, the little rural town that they live in, and waking up and reading the Fort Worth Star-Telegram and seeing my name on the front page. No parent ever wants to see their child attacked, even if they're an adult."