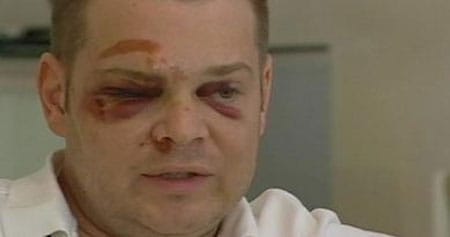 An ugly attack happened on Fort Lauderdale's Las Olas Boulevard on Saturday. Melbourne Brunner had finished a late night meal with his partner at the Floridian Restaurant when it happened, WSVN reports:
Brunner said he received the injuries from the stranger who walked by their table and targeted him for no other reason besides the fact that he is a gay man. Brunner said they tried to be cordial with the stranger when they first made eye contact. "He looked down at us, and my partner said, 'Good morning,' and that was it."

Brunner recalled, moments later, the man returned visibly upset. "He just started with this barrage, of, 'Are you looking at me, you faggot? You know what I do to faggots? I break their necks!'"

After the verbal encounter, his partner and friend decided to ask for their check. They got up, left the restaurant and headed down the sidewalk to their car. That's when the attacker followed them and made his move. "As I was almost into the car, the guy had made it down the sidewalk and had reached inside and grabbed the edge of the door," explained Brunner. The verbal attack turned physical when Brunner stood up. "That's when he hit me, and I landed face-down on the concrete."

Mitchell Mart, the victim's partner, went to render aid to Brunner and noticed his injuries. "I came down the street to pick him up and put him in the car and saw he was badly injured," Mart said. "His forehead immediately swelled up, his eye closed, he was bleeding."

Mart tried to get the attacker's license tag number from his pickup truck, but the assailant went out of his way to keep it hidden. "He took off his shirt, covered his license plate, put down his tailgate," he said.

Brunner said the attacker then threatened them. "'I'll kill you before you get my tag number, you faggot!' and jumped in his car, rolled down the window and was screaming, 'That's right, run, faggots, run.'"
Brunner and his partner did get a good description of the vehicle and the attacker, however: "Authorities are looking for a newer model, four-door Toyota Tacoma with a metallic green color, chrome rims, a black roll bar and a black bed cover. The attacker is described as a white male, in his early 30s, with a muscular build, clean-cut hair, standing about 5 feet 9 inches to 6 feet tall."
In related news, 17-year-old Simmie Williams was gunned down on Sistrunk Boulevard in Fort Lauderdale over the weekend while dressed in women's clothes. Authorities are still trying to determine the motive behind that attack.
Police search for man who attacked gay couple [wsvn]
Gay man attacked outside popular Fort Lauderdale eatery [sun-sentinel]