New York judge allows divorce trial for lesbians married in Canada.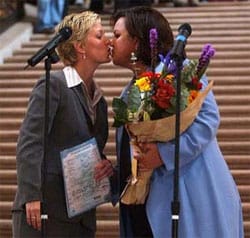 Four years ago today Rosie O'Donnell and Kelli Carpenter were married inside Mayor Gavin Newsom's office at San Francisco City Hall.

Hospital in Florida refuses lesbian and children to communicate with her dying partner of 18 years, tells them there is nothing they can do because they're in an anti-gay state.

Courtney Love blogs about the Oscars: "i was supposed to be at Eltons Party at i think noon or something and if we dont hiurry it will suck- i really dont want to get there ina crush of shit and stuff- wait my pr is outside im calling her hold on- okay i hope the disaster has been averted but m,y expirience with that party is that i do NOT want to see Paris dancing ona table i really really DONT and i dont want to stuff a stale slamon canape in my mouth and i really need to get laid so i m off to do so."

Incest is Best: Dexter serial killer killer Michael C. Hall is dating his sister on the show?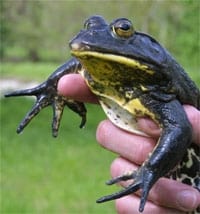 Anti-aging substance found in bullfrogs: "Because it is water-soluble, the substance may be consumed in much more diverse ways than the oil-soluble tocopherol. You may put it in soft drinks, for example."

First 30,000 pages of 'Book of Life' revealed: "The immense online resource is designed to greatly enhance our understanding of the world's diminishing biodiversity. The creators of the database say it could have an impact on human knowledge comparable to that which followed the microscope's invention in the 1600s. It is designed to be used by everyone from scientists to lay readers. The Encyclopedia of Life (EOL) – described as the "ultimate field guide" – is to encompass all six kingdoms of life, and even viruses – which many researchers do not consider to be living organisms."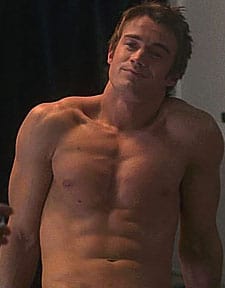 Robert Buckley makes an impression on Lipstick Jungle.

The Academy's excuse for Brad Renfro death montage snub: not enough time to include everyone.

Cases of HIV/AIDS soar 45% in China from 2006 to 2007: "The staggering rise was put down to changing social attitudes and an improvement in data collection. The government had said late last year that 700,000 people were living with the virus, an increase from an earlier estimate of 650,000. The year before, China lowered its estimate to 650,000 from 840,000, despite warnings from international experts that the disease was spreading due to ignorance and because many people were too afraid or too poor to seek help."

Rent ends 12-year run on Broadway.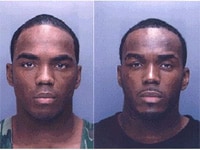 Gay porn twins arrested for string of burglaries in Philadelphia.

Gay Brazilians demand Fidel Castro ask for forgiveness for his persecution of gays and lesbians: "Grupo Gay da Bahia, the oldest homosexual non-governmental organization in Latin America, demands that the dictator Fidel Castro, before his death, recognizes and asks for forgiveness for the grave errors of the Cuban revolution responsible for the demoralization, persecution, imprisonment in concentration camps, forced labor, torture, deportation, and death of thousands of gays, transvestites and lesbians in Cuba."

Scientists: Prozac doesn't work.