Writer's to vote on agreement to end Hollywood strike: "The Writers Guild of America moved swiftly Sunday toward a resolution of its three-month-old strike, with guild leaders deciding to recommend a tentative contract to members and ask them to vote on a quick end to the walkout. By calling for separate votes on ending the strike and accepting the new three-year deal, the union cleared the way for the entertainment industry to return to work almost immediately. Membership meetings will be held Tuesday in New York and Los Angeles to allow writers to decide whether the strike should be brought to a speedy end, said Patric Verrone, president of the guild's West Coast branch."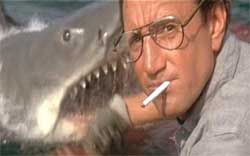 Jaws police chief Roy Scheider has died at the age of 75 (photo via slog).

Millionaire Matchmaker Patti Stanger says the next season of the Bravo show may focus on gay millionaires: "There would have to be a gay person at the helm to consult with me. But attraction is attraction. When a guy comes in and he's flamingly queeny and he goes for butch, you can't give him another queen. Somebody wants their car door opened. Somebody wants to be called back. Somebody wants someone to pay the bill. It's not about the sexuality. You have to be able to hear what attracts somebody. The gay community has a lot of money because there's no second decision maker. They don't have an ex-wife or children. But what they're saying to me is that there's a whole subset of the gay community, where people are hooking up for real love. And that's why they want marriage."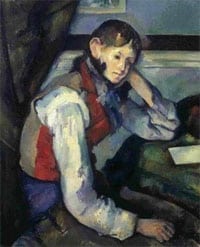 "Spectacular" art heist in Switzerland sees theft of four paintings worth $163.2 million: " The robbery…occurred Sunday at the E.G. Buehrle Collection, one of Europe's finest private museums for Impressionist and post-Impressionist art, police said. Three masked men who entered the building with pistols are still at large. A police statement said the three robbers wearing ski masks and dark clothing entered the museum a half-hour before closing Sunday. While one of the men used a pistol to force museum personnel to the floor, the other two robbers went into the exhibition hall and collected the four masterpieces. The men were about 5 feet 9 inches tall and one of them spoke German with a Slavic accent, the police said. They loaded the paintings into a white vehicle parked in front of the museum. Police, asking for witnesses to come forward, said it was possible that the paintings were partly sticking out of the trunk as the robbers made their getaway."

Atonement wins "Best Film", Daniel Day-Lewis "Best Actor" at BAFTA's. Full list of winners here.

Sensing softening of attitudes, gay Mormon group Affirmation requests meeting with new church president Thomas Monson. Assistant executive director David W. Melson: "I would like for us never again to have gay individuals, particularly our young people, being told that they are not welcome in the church they grew up in."

Paris Hilton's film The Hottie and the Nottie bombed at the box office this weekend. To mark the occasion, her publicist Elliot Mintz showed up to her pre-birthday party as the Nottie.

Attention, artists! The South Carolina Gay and Lesbian Pride Movement is seeking theme and logo submissions for its 2008 Pride celebration.

Aussie cricket team hits gay bar: no photos please.

CBS News host Bob Schieffer cuts "Brokeback Mountain" reference from tribute song to Sumner Redstone in wake of Heath Ledger's death: "Singing 'Mr. Redstone' to the tune of 'Mr. Goldstone' from the musical 'Gypsy,' Mr. Schieffer sang about the boss splitting up CBS and Viacom in 2006. 'You are the guru, and who would know but you what a little change in Viacom's name would do. Have an éclair, Mr. Redstone, buy some networks, make a movie, play a tune. Take a break now, Mr. Redstone, 'cause another deal will come along real soon.'…In the recorded version though, there was no claim that 'I don't understand this interlude.' Instead, Schieffer says, 'I ain't some Brokeback Mountain dude.'" Funny how we respect the dead more than the living.

Woman plans to kill herself in 90 days, and she's blogging about it.