Oregon U.S. District Judge Michael Mosman swept aside an order he made in the last days of 2007 which halted the state's domestic partner law from going into effect on behalf of "pro-family" groups who claimed that county elections clerks had improperly disqualified signatures.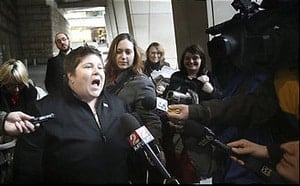 The AP reports: "The referendum drive fell 96 signatures short of the 55,179 needed to refer a law passed by the legislature to the ballot. Alliance Defense Fund lawyer Austin Nimocks had argued that a signature on a petition should be given the same weight as a signature on a ballot, and that elections officials should have made more of an effort to contact voters whose signatures were disqualified. But Mosman, who was appointed to the bench by President George W. Bush, said signatures on a petition amounted to, 'a call for an election, not a substitution for an election.'
This means that Oregon's broad domestic partner law, which gives same-sex couples who register as domestic partners a huge number of benefits available to married couples including joint filing of income taxes, inheritance and medical rights, and other state benefits.
Said Jeanne Frazzini of Basic Rights Oregon (pictured): "We won this case on the merits. But the real winners today are the thousands of caring, committed couples who will have access to the rights and responsibilities of domestic partnership."
Same-sex couples were expected to be in line on Monday morning in order to register as domestic partners and applications were quickly made available online.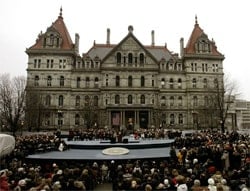 In NEW YORK, an appellate court ruled that the state must recognize legally valid same-sex partnerships and civil unions from out-of-state and abroad.
The NYT reports: "Even though gay couples may not legally marry in New York, the appellate court in Rochester held that a gay couple's 2004 marriage in Canada must be respected under the state's longstanding 'marriage recognition rule,' and that an employer's denial of health benefits had discriminated against the couple on the basis of their sexual orientation. 'The Legislature may decide to prohibit the recognition of same-sex marriages solemnized abroad,' a five-judge panel of the Appellate Division of State Supreme Court ruled unanimously in rejecting a 2006 lower court decision. 'Until it does so, however, such marriages are entitled to recognition in New York.'"
The ruling makes it mandatory statewide for employers to recognize out-of-state legal same-sex unions.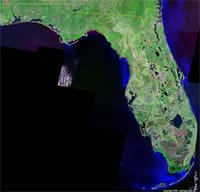 In FLORIDA, the group pushing for a ballot initiative on a constitutional amendment banning gay marriage in the state managed to turn in the required amount of signatures to get the measure on the ballot. Last month, news broke that the group had fallen just short of the required signatures, but in a last-minute push the group got more than 92,000 signatures over the past two weeks.
This means, come November, that Florida voters will be able to decide whether or not to amend the state's constitution to ban same-sex marriage.
Judge upholds gay rights law [ap]
State Court Recognizes Gay Marriages From Elsewhere [tr]
Florida to vote on gay marriage ban amendment [orlando sentinel]