A Palestinian man has been granted a temporary residence permit by Israeli authorities to live with his partner in Tel Aviv after the Palestinian man claimed his life was at risk in his hometown of Jenin.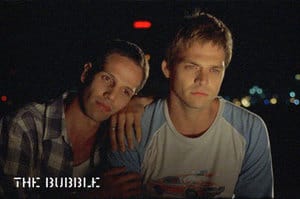 Ynet News reports:
"The permit was issued by Coordinator of Government Activities in the Territories Maj.-Gen. Yosef Mishlav. Several years ago, the Palestinian has filed a request with the Israeli Interior Ministry to receive residency status in Israel that would enable him to live with his lover for the past eight years, a computer engineer in his forties. After he realized that obtaining the permit may take several years, the young man decided to seek the help of the IDF representative in the territories. In a letter to Mishlav he noted that ever since his family learned of his gay relationship with an Israeli man, he has been facing an ongoing threat to his life. In an unprecedented move, Mishlav decided to grant the request and issue the Palestinian a temporary permit, which needs to be extended every month."
Mishlav did say, however, that the approval was an exception, and any further permits would depend on an Interior Ministry ruling.
I haven't seen Eytan Fox's film The Bubble but it sounds like life is imitating art here, and probably not the first time. Watch the trailer AFTER THE JUMP…
IDF allows gay Palestinian to reunite with Israeli lover [ynet]