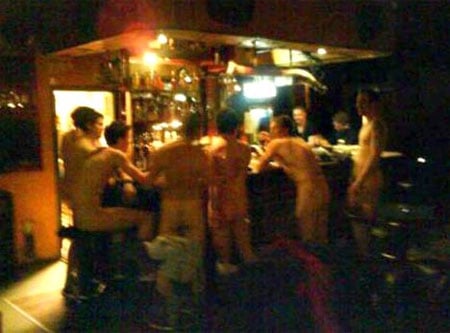 The British troops play a game of 'naked bar' in Norway.
In related news, this morning on Good Morning America, Chris Cuomo said that Prince Harry was sent to Afghanistan rather than William, because Harry is "expendable".
In other news, a U.S. Marine based out of Hawaii is being investigated after a sick, graphic video appeared on YouTube showing the soldier throwing a puppy off a cliff into a steep ravine.
Said the Kane'ohe Bay base in a release: "The video is shocking and deplorable and is contrary to the high standards we expect of every Marine. We do not tolerate this type of behavior and will take appropriate action."
I'm not going to link to the video, but the Honolulu Advertiser provides an accurate description.
"Two Marines are seen in combat gear smiling as one holds a white-and-black puppy by the scruff of its neck. The dog seems to be about 8 weeks old and is motionless as it is held. 'Cute little puppy, huh?' says one Marine as he smiles broadly. 'Oh so cute, so cute, little puppy,' says another in a child-like voice. The Marine holding the puppy is then seen throwing the animal overhand into a desert-like gully below. The animal yelps until it thuds to the ground at the bottom of the gully. 'That's mean,' one Marine says afterward."