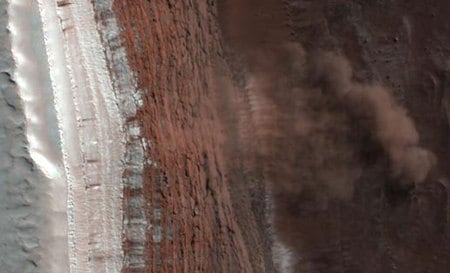 NASA has released some interesting rare shots taken by the Mars Reconnaissance Orbiter last month, of an avalanche occurring off a 2,300 foot cliff at the planet's north pole.
NASA writes: "Cameras orbiting Mars have taken thousands of images that have enabled scientists to put together pieces of Mars' geologic history. However, most of them reveal landscapes that haven't changed much in millions of years. Some images taken at different times of year do show seasonal changes from one image to the next, however, it is extremely rare to catch such a dramatic event in action. (Another, unrelated, active process that has been captured by Mars cameras are dust devils.) Observing currently active processes is often a useful tool in unlocking puzzles of the past for scientists studying the Earth."
These images offer a better picture of the context of the slide, "with white boxes indicating the locations of the more detailed image portions shown to the right."
I sincerely hope the Mars alien was not skiing at the time.
Recent space oddities…
This Week's Alien Theories Debunked…or Not! [tr]
This Week's Lunar Eclipse [tr]
Navy Missile Strikes Spy Satellite – Video [tr]
Virgin Galactic Spacecraft Unveiled in New York [tr]
Messenger from Earth Reveals Mercury for First Time [tr]