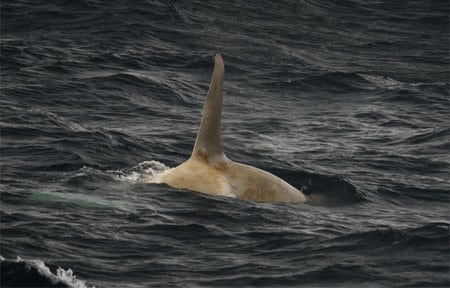 This is pretty cool. Researchers recently spotted a white killer whale off the coast of Alaska:
"The white killer whale was spotted with its pod about two miles off Kanaga Volcano, part of Alaska's Aleutian Islands, on February 23. At the time, Kodiak-based Oscar Dyson was on a research expedition for NOAA's Alaska Fisheries Science Center, assessing pollock fish stocks near Steller sea lion haulout sites. The white whale is a fish-eating type of killer whale, as were all the killer whales photographed on the expedition. Fish-eating killer whales are the most frequently seen whales around the Aleutian Islands during the summer. The winter sightings represent important evidence that they may be common year-round. Few white killer whales have ever been seen, according to Fearnbach, much less scientifically documented. This whale is likely not a true albino because it still has signs of darker pigmented areas on its body. However, because of its prominent coloring, the white whale serves as an indicator for movements of killer whales in the North Pacific."
I don't know why but I love this stuff. Last month there were two other incidences of white animals that I noticed but didn't have time to post here. This seems like a good occasion to do so. Check out Scotland's white stag and Montana's white moose, AFTER THE JUMP…
In February, a rare white stag was spotted in the Scottish highlands: "The John Muir Trust is now keeping the stag's location secret for fear of poachers. 'To see him amongst the other stags was truly thrilling because he does look like a ghost: you do a double-take,' Trust Partnership Manager Fran Lockhart, who filmed the stag, told Reuters. White stags are seen as a magical and powerful force in many mythologies. The animal's ghostly glow comes from a recessive gene which causes leucism, a condition which reduces the normal brown coloring in hair and skin. They are not albinos, which have red eyes due to lack of pigment."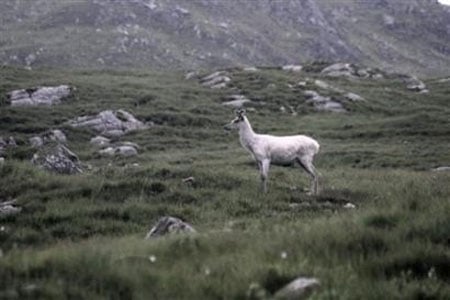 And also in February, Flickr user Pizzler uploaded a bunch of images of a white moose that was spotted (coincidentally) near Whitefish, Montana which is fairly close to Glacier National Park. A great disguise for the winter, but probably not too easy to hide during the summer months.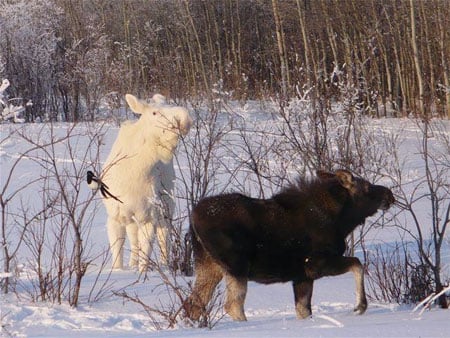 Check out all Pizzler's photos here.