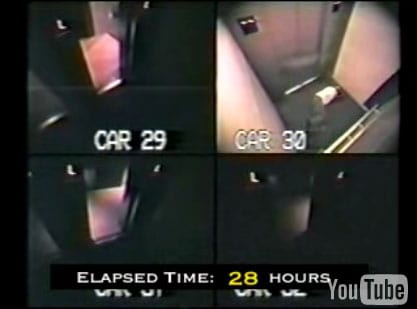 Check out this time-lapse video of Business Week production manager Nicholas White's 41 -hour ordeal in an elevator of the McGraw-Hill Building in Rockefeller Center, which he experienced beginning on a Friday night in 1999 after going outside for a cigarette break:
"When White finished his cigarette, he returned to the lobby and, waved along by a janitor buffing the terrazzo floors, got into Car No. 30 and pressed the button marked 43. The car accelerated. It was an express elevator, with no stops below the thirty-ninth floor, and the building was deserted. But after a moment White felt a jolt. The lights went out and immediately flashed on again. And then the elevator stopped."
Gawker notes, White is unemployed and the experience pretty much altered his life forever.
Watch it, AFTER THE JUMP…
Up and Then Down [the new yorker]