Is an Anderson Cooper for Katie Couric network anchor swap in the works?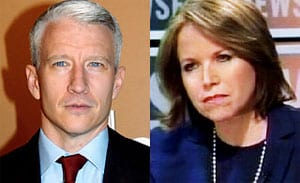 According to the New York Daily News: "A blockbuster trade of TV superstars was floated Friday by TV insiders as a solution to CBS' Couric problem. Cooper, CNN's prematurely gray prince of cable TV, would replace Couric as the anchor of CBS' 'Evening News.' He already is a contributor to CBS' '60 Minutes,' they said. And CNN will eventually need to replace the iconic Larry King, who is 74. Why not Couric, who remains a marquee talent despite being a $75 million flop for CBS, the insiders said. 'Take Katie off the 'Evening News,' let her do Larry King, and then let Cooper anchor,' one network source said…Asked about the speculation that Couric could be cable-bound, a CNN spokeswoman said, 'Larry is the best there is; he will be here for a long time.' While much of the water cooler talk at CBS is about Cooper, network executives are also enamored with David Gregory of NBC – the network that once employed Couric. Couric, according to various published reports, would depart after the inauguration in January – if not earlier."
Imho, CBS would be getting the better end of the deal.
Insiders suggest Katie Couric for Anderson Cooper trade [nydn]