The McCain Girls are the product of the 23/6 comedy site, it was revealed today: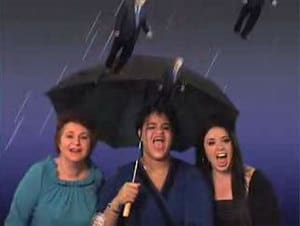 "Drum roll, please: The creators of the McCain Girls turn out to be the comedy team behind 23/6, a five-month-old Web site owned by an affiliate of IAC/InterActiveCorp that parodies the news. The site, at 236.com, uses the motto 'Some of the news, most of the time.' Indeed, the videos' makers say they were trying to tread the line between sincerity and irony. 'We wanted to parody the campaign-song phenomenon,' said Sarah Bernard, the president of 23/6. Because most of the so-called stars of YouTube are amateurs, the comedy site decided to take no credit for its creation. Jon Benjamin, a contributor to 23/6 who produced the 'Raining McCain' video, had watched some of the more earnest campaign songs online. Recalling one particular video, an elaborate choir production called 'Hillary4U&Me,' 'it just looked like somebody paid them money to do it,' he said. So that's what 23/6 decided to do: hire three women with acting and singing backgrounds to create a video for Mr. McCain. 'We were pretty amazed that after the video came out, people were confused as to whether or not it was real,' Ms. Bernard said. 'That's when I think we said 'Hey, can we actually pull off a hoax here? How long can we keep it going?'"
I'm really disappointed. I was so looking forward to "McCainy Days and Mondays".
And if you missed them, I've posted their earlier hits AFTER THE JUMP…
Singing McCain's Praises, or Joking? [nyt]
The McCain Girls: "It's Raining McCain!" [23/6]