Philip Anderton Cooney, the son of George Bush's former chief of staff of the Council on Environmental Quality, who last year was accused of a bias-related assault against a fellow Georgetown student (he allegedly punched his victim while using gay slurs), has had the charges against him dropped: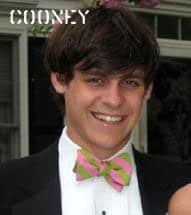 "Cooney was charged with bias-related assault by the Metropolitan Police Department last September, but the U.S. Attorney reported that 'subsequent investigation raised doubts as to … whether based upon available evidence we could prove beyond a reasonable doubt that the defendant in this case was the person who actually committed the assault.' … 'Philip was always completely innocent of the charges against him and the dismissal of the case has vindicated him entirely,' Danny Onorato, Cooney's lawyer, wrote in a statement. 'To know Philip Cooney is to know a young man of exemplary character who was wrongfully accused in this case.' The U.S. Attorney's office has indicated that they continue to consider the assault, in which a male Georgetown student was beaten by an assailant who shouted anti-gay slurs, a criminal act. Cooney was originally implicated in the assault through a Facebook.com profile and, later, a police photo line-up. During the pre-trial period, the prosecuting Assistant U.S. Attorneys, Mary Dobbie and Joseph Spurber, determined that they would not be able to firmly establish that Cooney was present at the time of the assault."
The Georgetown Voice reports that it's unclear whether or not any investigation into the assault will continue.
You may remember the scandal surrounding Cooney's father, Philip Sr., who resigned from the Bush administration after the New York Times revealed that he had edited government reports on climate change to downplay the role of emissions in global warming. He's now (shock) a lobbyist for ExxonMobil.
Surely he had no role in getting his son cleared.