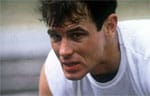 "The preppy styles Polo is making for the athletes to wear in the Opening and Closing ceremonies and in the Olympic Village will mark a departure from sporty outfits that the American team has worn in recent years, such as retro ski jackets inspired by vintage Ducati motorcycle ads that were worn in Turin, Italy, in 2006."
Check out the first glimpse of one of the outfits,
AFTER THE JUMP…

The U.S. team rejected Canadian company Roots in favor of Ralph Lauren:
"Roots late last year had unveiled a 'yoga-inspired, technical, green product' for the U.S. athletes to wear in Beijing, according to Roots Chief Executive Michael Budman. But Norman Bellingham, chief operating officer of the USOC and a former Olympic kayaker, says that he wanted the athletes to be attired in a 'classic and more formal manner. "They wanted blazers and slacks, a more formal look,' Mr. Budman says. The two mutually agreed to terminate their contract. Mr. Bellingham says he asked former NBC anchorman Tom Brokaw to contact Ralph Lauren to see if Mr. Lauren might be interested in designing for the U.S. team. At a meeting at Polo's headquarters on Madison Avenue in New York, Mr. Bellingham told Mr. Lauren that his inspiration was 'Chariots of Fire,' the 1981 movie about British athletes competing in the 1924 Summer Olympics in Paris. Upon hearing that, Mr. Lauren smiled, Mr. Bellingham recalls. 'He knew precisely what we were going for.'…'We have to put America on a world stage that looks refined and appropriate,' says David Lauren. At the Olympic Village and at the Closing Ceremonies, athletes' wardrobes will include V-neck tennis sweaters and ties, classic Polo mesh shirts with 'Beijing'" written in big Chinese characters across the front and cargo pants — all in a patriotic palette of red, white and blue. The Olympic logo featured on the new uniforms may include a replica of a crest with stars and stripes used by the 1932 U.S. Olympic team at the Los Angeles Games. Polo ponies of varying sizes will also make an appearance on the garments."
Don't expect fashion to dominate the conversation this year, though.
Polo to Outfit U.S. Team for the Beijing Olympics [wsj]
Previously
Gay Activist Peter Tatchell Detained Amid Olympic Flame Protests [tr]