A tragic tale out of Chennai, India, where the families of Christy Jayanthi Malar, 38, and her partner, identified as Rukmani, 40, discovered the lovers' embracing bodies. They had doused themselves in kerosene and set themselves on fire: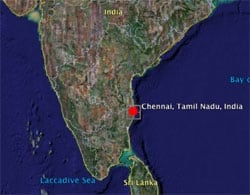 "Two married women, who allegedly shared a lesbian relationship, committed suicide by setting themselves ablaze after their families tried to separate them. The police recovered the charred bodies of the women, who died hugging each other, from the residence of one of the women at Sathangadu, near Thiruvotriyur, on Saturday. The incident came to light on Saturday morning when the family members noticed thick smoke emanating from the house, where the women stayed the previous night. They peeped through the window and were shocked to see the bodies lying as if they had died hugging each other."
The full story here.
In related news the Delhi HC is considering public interest litigation that would decriminalize homosexuality in the country.