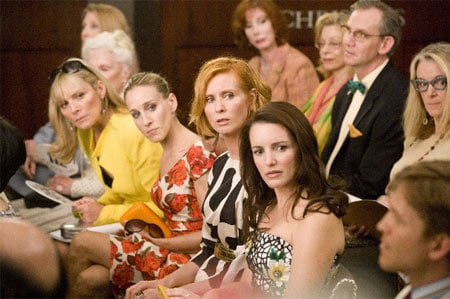 Hope you're all enjoying the holiday weekend. We thought we'd bring you something a bit different today and at the same time do our part to add to the overkill media machine propelling the most important movie ever made toward its premiere at the end of the month.
Towleroad correspondents Josh Helmin and Josh Koll (Josh & Josh are Rich and Famous) sat down with the cast of Sex and the City recently at the Ritz Carlton Hotel in New York for exclusive chats about the show's gay fans, plotlines that never made it to the show, Sex-y fashion, and what it was like to return to their characters' (high-heeled) shoes for Sex and the City: The Movie. Here's what transpired:
ON THE SHOW'S GAY FANS.
CYNTHIA NIXON: In the first couple years of our show we didn't have any female writers. Our two writers were gay men. There was a lot said about, "These aren't really women—these are gay men disguised as women," and that really bugged all of us. It was like, Why aren't they really women? Because women aren't having this much sex? That's annoying.
It's a very gay friendly show. Not only do we have gay characters, but one of the central themes is a very gay conceit, which is your family is not the family you came from. Your family [develops] when you come to a place you always wanted to be and you meet people who are like you, and you create your own family. You notice in the series that we almost never meet anybody's family. Once we met Charlotte's brother. We heard about Miranda's father after he was dead. But we never meet anybody's parents or family. And they really wanted to keep it about the family you create.
SARAH JESSICA PARKER: Because I'm from New York, and I was raised in the theater, the gay community was always part of culture to me. They were always some of the first audiences, always the first people at the preview of a Broadway show, so it wasn't so shocking to me that they were some of the first, most committed audiences [of our show].
There was a particular attachment to this show, among even my gay friends. It's less about the salty dialogue and the candid, forthright chat-chat. Your relationship with your gay friends is like your relationships with your straight women friends. It is that deep and that intense and they care about friendships in the same way; they talk and they share. That has been my relationship with gay men, and, of course, the majority of my friends are gay men. And it's extremely comforting: They always make you feel good, they always make you feel at even your worst moments like a lady—like a girl—and they are never afraid to be honest. They loved the ridiculousness and the absurd and the dirty and costumes, but if there wasn't an emotional connection to those friendships and what they meant—you know, the gay community can grow weary, and they can move on quickly. But I think that's what it meant for [the gay community], that kind of connection.
KIM CATTRALL: A lot of people ask me if they feel that I'm playing a gay man in New York, and if I am, I am having the most fabulous time as a gay man in New York. I don't personally think that, but I think it's a fun thought. I was very happy to be on the cover of The Advocate. I feel like I have arrived in some ways. But there has been a tremendous amount of support from the gay community, and I'm grateful for it.
KRISTEN DAVIS: We have been hugely supported by the gay community, absolutely, and we love that. I feel like we've got support from a lot of different groups, which I think was edifying to us. I think people in general identify with well-written characters.
But I think also for gay culture—men and women—we were not locked into anything particularly rigid—there's Samantha and Charlotte and everything in between. It's colorful and pretty to look at, and we've got crazy clothes, and it was risky in a way, and with sexuality, and I think that people felt free about that, and so of course the gay community would vibe with it. But also, when I go home to South Carolina, old women come up to me, and I say, "Really, you watch it? You don't have heart palpitations?" So it's been a really good cross section. But we love our gay fans, obviously.