Illinois' first openly gay legislator, former state rep. Larry McKeon, died on Tuesday the Chicago Tribune reports: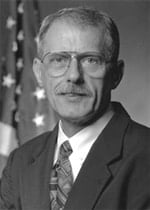 "McKeon, 63, a Chicago Democrat, did not seek re-election in 2006 because of health struggles that included cancer and an AIDS-related digestive illness. An Army veteran and former lieutenant with the Los Angeles County Sheriff's Department, McKeon came to Chicago in the 1980s to pursue a degree in social service administration. He worked as a director at United Charities and became involved with gay activist groups, leading to his run for political office. In 1992, he was hired as executive director of the Chicago Human Rights Commission's Advisory Council on Gay and Lesbian Issues. McKeon was elected to the House in 1996 by voters in what was then the North Side's 34th District. During that campaign, he acknowledged being HIV-positive. One of his major legislative priorities was to expand gay rights. In 2005, Gov. Rod Blagojevich signed into law a measure that added sexual orientation to the state's human rights act banning discrimination against gays and lesbians by landlords, real estate agents, employers and lenders."
McKeon died in Springfield.