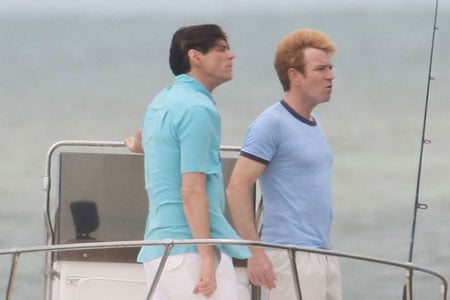 Jim Carrey and Ewan McGregor (who's now a strawberry-blonde) were spotted have a windblown moment off the Florida Keys while shooting their film, I Love you Phillip Morris. In the film, Carrey stars as Steven Russell, a married father/conman who finds himself in the Texas prison system where he falls in love with his cellmate Phillip Morris, played by McGregor. The romance prompted four escape attempts and a lifetime jail sentence for Russell.
According to Metro UK, "In this scene, the two stars are filmed during a fumbling man on man moment aboard their dinghy, bobbing off Florida Keys. Carrey was left with his legs sprawled in the air and his pants around his ankles, as McGregor looks on suspiciously."
Earlier this week, Carrey and Rodrigo Santoro were spotted shooting a scene in Miami Beach. The three actors were seen the week before at a popular gay 'martini' night at Halo Lounge in South Beach doing research.