In a posting to his official site, 23-year-old High School Musical actor Lucas Grabeel writes about acting in Gus van Sant's Milk.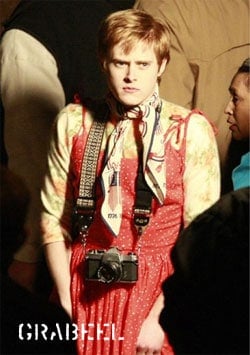 In Milk, Grabeel plays Dan Nicoletta, Harvey Milk's close friend and supporter who worked as a clerk at the Castro street camera shop which later became Milk's campaign office. Grabeel is pictured, in costume, below.
While Grabeel trumpets that acting in the film about the gay civil rights leader who struggled to break down closet doors "changed (his) life," the actor then posts a disappointing paragraph explaining to his fans that just because he's playing someone who is gay, it doesn't mean that he is.
***
Via LucasGrabeel.org (sic):
"Earlier this year I was in a movie that changed my life… Milk. I shot for a month in San Fransisco with one of my favorite directors, Gus Van Sant, and a hugely talented cast that exposed me to a completely new realm of film making. It will also be a movie that is completely different that anything else I've done. The story is about a very important man, Harvey Milk. (google him) He was the first openly-homosexual elected political official in the United States, in 1978.
"Things were a lot different then… Before all of you were around…hehe… People were still very prejudice against minorities in the seventies and it was a very difficult time for someone who was "different" than the average white male". You guys have no idea that any of this existed; I'm sure your parents haven't told you about oppression in the seventies, but it was a real issue. People were KILLED without questions for just being "different". Harvey Milk tried to stop all of that. In his tough struggling rise to political power he encountered many obstacles that seemed to only inspire him more to change the minds of people all across the country. People at that time thought that being a homosexual meant that you were sick and needed to be healed before you were viewed as a normal citizen. He gave people hope for a bright future of equality by inspiring everyone he encountered. The movie also shows that in 1978 someone was so afraid of change and new hope, that they walked into his office one morning and killed him and the Mayor of San Fransisco. Crazy, Huh?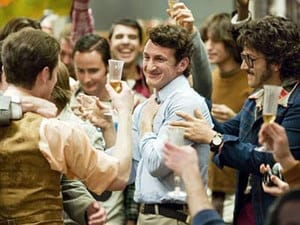 "Well, I really hope that this movie is going to be awesome and I can't wait to see it myself. It comes out November 26 in theatres… Now, your parents may not let you see this movie because it's rated R and has many very adult themes.
"I know that a lot of you will not understand (until you're older) that in the film industry, as an actor, you play roles. What that means is you completely embody another person and become someone you are not. I'm NOT Ryan Evans. I'm NOT Kelly Kuzio from Veronica Mars, I'm NOT Lex Luthor… I'm Lucas. But when I go to WORK (just like your parents go to work everyday) I assume the character of whom I'm playing and create a story for people to enjoy. In the movie Milk, I PLAY a homosexual… that doesn't mean that I am gay. Sean Penn, one of the greatest actors of our generation is playing Harvey Milk, a gay character… but He is married to Robin Wright-Penn.(Princess Bride… if you haven't seen that movie see it!!!) Most people in this movie are straight men playing gay men…. Emile Hersch, James Franco, and Diego Luna are just a few….
***
Now, perhaps Grabeel is reacting this way because of speculation among fans or in media about his sexuality. I don't know. But he could certainly learn a few things from his High School Musical castmate Zac Efron, who in his Details cover story and interview handled the same situation better than most actors I've seen.
In any case, I'm still looking forward to seeing Grabeel and Milk later this year.
Related
JAmes Franco rates Sean Penn his 'top' Onscreen Love Interest [tr]
Harvey Milk Bust has Coming Out Party [tr]
(thanks matt)