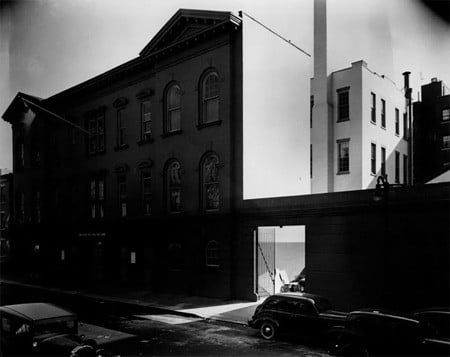 The NYT City Room celebrates the building that houses New York's Lesbian, Gay, Bisexual and Transgender Community Center with a brief but fact-filled piece by David Dunlap, who wrote a 1983 piece on the sale of the landmark building to the gay group 25 years ago. For those interested in the history of the city's real estate it's a fascinating slice on the building's transition from school to the functional center it is today:
"Sources differ on when it was built, but School No. 16 in the Ninth Ward (as it was first called) was unquestionably standing before the Civil War. Amiable legend has it that President Abraham Lincoln stopped by to visit during the war, but there seems to be no evidence of that. Renamed Public School 16, its condition was so decrepit by 1921 that it made a Worst 40 list compiled by a civic group that found 'plumbing wet and foul,' 'rooms small, dirty and dingy,' and a need for ventilation 'top to bottom." The committee said sending young children to the schools on its list was tantamount to "criminal negligence.' Within three years, the building was doing new duty as a vocational institution called the West Side Continuation School."
And it comes with a great slide show.