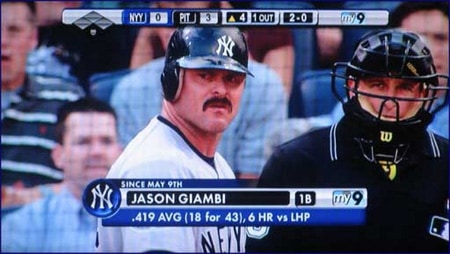 The mustache that New York Yankee Jason Giambi grew in late June has caused such a fuss and developed such a fanbase that it's getting its own day from the organization. Not since the beards of the New England Patriots has facial hair on an athlete drawn such attention.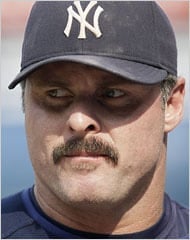 According to New York magazine, "They'll distribute 20,000 fake mustaches at Yankee Stadium (this afternoon), and they say the faux facial hair will also be worn by team broadcasters and maybe even players. They're even calling in the big guns, claiming the endorsement of the American Mustache Institute, which has provided one of its trademark over-the-top quotations: "Giambi's significant first-half production as well as his powerful lip fur — indicating great intellect and good looks — make two very compelling reasons for his place on the American League All-Star roster."
The promotion is an effort to get Giambi and his pornstache voted to the All-Star team at MLB.com.
(screencap via deadspin)
related
Grizzly Adams Celebrates Beards and Bears at the Super Bowl [tr]