STUDY: Gaydar is real.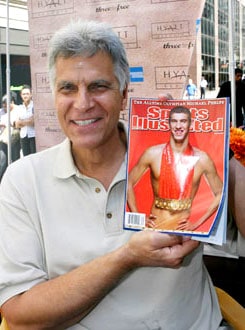 Mark Spitz says he could take Michael Phelps: "I know everything there is to know about how to beat Michael, and he would know how to beat me. We'd probably tie."

90210's Brenda Walsh: Did you miss her?

Barney Frank to review FDIC policy that excludes same-sex couples: "Frank, one of two openly gay members of Congress, is chair of the influential House Financial Services Committee, which oversees legislation and government regulation of the nation's banks and other financial institutions. 'He will talk to the FDIC to see if they have the authority to do something about this administratively or whether a legislative remedy is needed,' said Steve Adamske, Frank's press spokesperson."

One of the first Native American tribes to legalize same-sex marriage has a wedding on the way: "The Coquille Indian Tribe on the southern Oregon coast recently adopted a law recognizing same-sex marriage, despite an amendment that Oregon voters approved to the Oregon constitution in 2004 to prohibit gay marriage. As a federally recognized sovereign nation, the tribe is not bound by the Oregon Constitution."

ENDA co-signs DOMA: "A little-discussed provision of the Employment Non-Discrimination Act (ENDA) would allow employers to give health insurance coverage and other benefits to married opposite-sex couples and deny those same benefits to the partners of their gay and lesbian employees who are legally married in Massachusetts and California."

T.R. Knight and Mark Cornelsen offer up some PDA.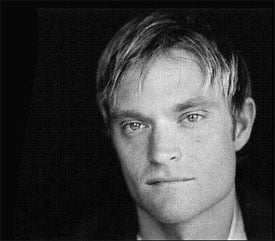 Chad Allen joins General Hospital: Night Shift for three episodes Michelle Obama and Colorado first lady Jeanne Ritter use Denver Post editorial to launch 'Delegate Service Day': "With the help of Volunteers of America, Democrats Work and Metro Volunteers, delegates from across the country will volunteer with dozens of community service projects in and around Denver. Volunteers will tackle projects ranging from building houses for veterans, to assembling care packages for troops overseas, to bringing meals to home-bound seniors and cleaning up public parks."

Curious who the new Bachelor is?

Florida town of Ponce de Leon sides with school principal who outed student and went on gay 'witch hunt': "When a high school senior told her principal that students were taunting her for being a lesbian, he told her homosexuality is wrong, outed her to her parents and ordered her to stay away from children. He suspended some of her friends who expressed their outrage by wearing gay pride T-shirts and buttons at Ponce de Leon High School, according to court records. And he asked dozens of students whether they were gay or associated with gay students."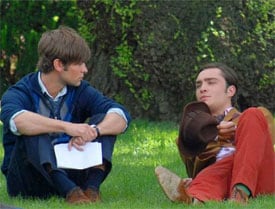 Leaves of grass: Chace Crawford and Ed Westwick have a moment alone.

New Amy Winehouse album influenced by The Wizard of Oz: "And according to a report in the Sun newspaper, the singer has sampled the 'Wicked Witch of the West' in a new track. 'She loves the surreal look, sound and score. One of her new songs heavily samples the theme tune,' a source told the newspaper. 'And the soundtrack and score will be a theme running throughout the record.' The unnamed source described the song as 'really interesting, if a little bizarre,' adding: 'I suppose that's what you would expect from her at the moment.'"

John Barrowman working on new album called Music Music Music.

Convergence: Intel and Yahoo working to bring the web to television seamlessly with current programming. "TV watchers can access a news story, sports score or weather forecast from the Web by clicking an on-screen icon with the remote control, Intel Senior Vice President Eric Kim said today at the Intel Developer Forum in San Francisco. The software will be given for free to TV-service providers. A drop in the price of computer-processors brought on by increasing competition has sent Intel, the world's largest chipmaker, seeking growth with consumer-electronics devices. For Yahoo, owner of the second most-used Internet search engine, offering content on TV may yield more viewers for its Web ads."