An anti-gay hate crime last Friday in Springville, New York, near Buffalo, was caught on a closed-circuit TV camera and the attacker arrested: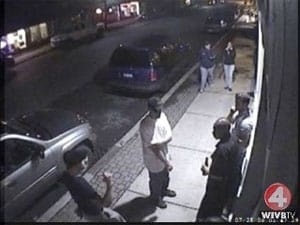 "We're told a man in the white T-shirt and dark colored hat followed another man out of the Casey's Bar on East Main Street and they crossed the road. After some sort of confrontation, the suspect walks back near Casey's Bar. He speaks with two other men. He paces the sidewalk for a while. Then he crosses the street a second time. That's when the violent assault took place. Camera owner: 'I saw pushing and shoving and fists flying and what looked like kicking.' The 47-year-old victim suffered multiple fractures to his face. Sources say the suspect yelled anti-gay slurs at the victim. And police say that's why they're treating it as a hate crime."
The attacker, who has been charged with assault, is free on $1,000 bail.