If you're interested in reading about what happened at the Opening Ceremonies in Beijing before NBC's recorded broadcast tonight, the NYT live-blogged it this morning. Or for a brief glimpse, watch the clips below.

Reviews are in.

China steps forward: "It is as though the nation which for so long resented its exclusion from the councils of the world, and centuries of foreign exploitation, is saying that what we will see is not so much the opening of another Olympics but the marking of a new world – one in which China, like that other superpower, America, will just have to be taken on its own terms, whatever the misgivings of foreigners."

The White House press corps. jet was detained at Beijing's international airport for three hours: "The flight crew of the Northwest Airlines 747 had been expecting to park at a VIP terminal, but after landing was instead directed by the control tower to a normal international gate. White House officials would say only there were 'logistical problems' getting clearance to unload the aircraft. The flight crew was told the Chinese were insisting that all luggage be inspected. Typically, the White House press charter receives the 'custom of the port,' meaning reporters, photographers and camera crews are able to get off the plane right after landing, board buses and head to their hotels and work areas while U.S. State Department officials process immigration and customs details."

USA TODAY: The Games' compelling storylines. "A sampling: Can sprinter Tyson Gay get past a hobbled leg as well as Jamaican world recordholder Usain Bolt? Can gymnast Shawn Johnson and her teammates top the Chinese women in their home country? Can the U.S. men sweep the podium in the new Olympic sport of BMX racing? Foremost, of course, is the question of Phelps, and whether he can have the single best Olympic performance of all time."

AfterElton: A Gay Viewer's Guide to the Olympics.

Beijing's art scene: "mushrooming".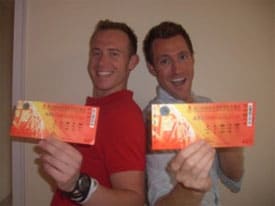 Olympics or Bust: Tyler Duckworth from MTV's The Real World and friend Charley document their trip to Beijing.

Will the games be a media game changer? "Today NBC Universal CEO Jeff Zucker sent an internal company-wide email calling the Olympics "the most ambitious broadcasting event ever attempted." It's huge. The company is presenting 3,600 hours of coverage, which Zucker says is more than the combined total of every Summer Olympics ever televised in the US. Perhaps most importantly in terms of the way the Olympics will change the media landscape, 2,200 hours will be streamed LIVE on the internet."
In the pool: Matthew Mitcham, Australian diver, Michael Phelps and Ryan Lochte, American swimmers, and Alexandre Despatie: French-Canadian diver.
AFTER THE JUMP… Michael Phelps talks to Matt Lauer about his quest for eight golds in Beijing.