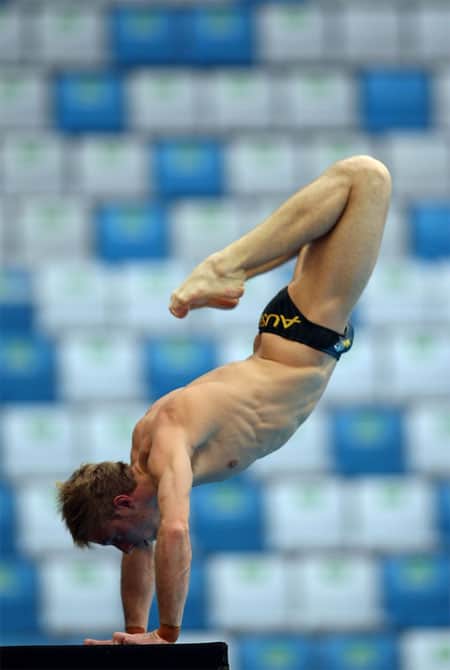 Here's a fantastic shot of gay Australian Olympic diver Matthew Mitcham taking a practice dive at the National Aquatics Center in Beijing last month in preparation for the games.
His teammate Robert Newbury has high expectations for Mitcham, who is set to compete in the 3m and 10m springboard events: "In the last few major world competitions, there's been seven (gold) for China and someone else has always taken one away from them. I'm sure they're determined to not let that happen, while the rest of the world are determined to make it happen. Matthew Mitcham is an awesome diver, it's well within his ability. He's absolutely fantastic.
It all comes down to the day."
The semifinals and finals for those are on August 19 and 23, respectively.
A sort of 'highlight reel' of Mitcham's dives, AFTER THE JUMP…
Previously
Australia's Gay Olympian Matthew Mitcham Happy to Be Out [tr]
Australian Olympic Diver Matthew Mitcham: I'm Gay [tr]
Sportrait: Alexandre Despatie [tr]
Sportrait: Danny Cipriani [tr]
Sportrait: John Cena [tr]