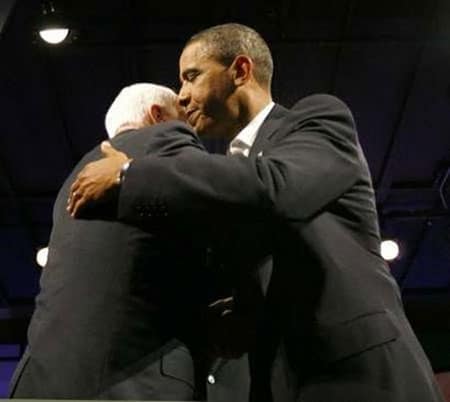 Barack Obama tussled with John McCain in a forum over the weekend at Pastor Rick Warren's Saddleback Church in Lake Forest, California, in the first quasi 'debate' between the two candidates. McCain was largely seen to have won the night by giving definitive answers that pleased the largely right-leaning religious crowd.
Politico analyzes six key moments from the debate and DailyKos has a round-up of some of the pundits' reactions.
Pam Spaulding takes down McCain on adultery over at LGBT for Obama.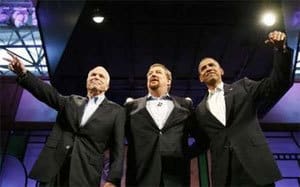 There have been suggestions that McCain may have been better prepared for his questions because the "cone of silence" he was supposedly in while Obama was being asked his questions was the comfort of his personal limo where he could have been watching the debate. Andrea Mitchell suggested as much on Meet the Press and received a terse letter from McCain's campaign manager Rick Davis.
Other notes, McCain's definition of rich? $5 million.
The candidates were also asked about same-sex marriage.
Obama: "I believe that marriage is the union between a man and a woman…Now, for me as a Christian, it's also a sacred union. God's in the mix…The reason that people think there needs to be a constitutional amendment, some people believe, is because of the concern about same-sex marriage…I am not somebody who promotes same-sex marriage, but I do believe in civil unions."
McCain's answer: "Union – a union between man and a woman, between one man and one woman. That's my definition of marriage."
Watch the clip of Obama's same-sex marriage answer, AFTER THE JUMP…