A man in his 20's identified only as "Chad" was killed last night outside Nasty D's, a gay and lesbian pub in Rochester, New York, following an argument that witnesses say began in the bar and was continued outside. "Chad" was killed and four others injured when a woman got in her car and struck the victims in a parking lot outside the bar (pictured):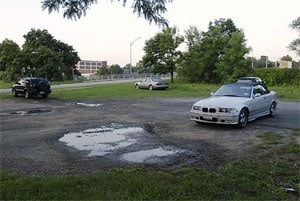 "The incident took place at 563 Broadway, about 1:50 a.m., according to Monroe County emergency dispatchers. Officers are treating the incident as a homicide, dispatchers said. Officers were initially called to the corner of Alexander Street and Broadway to break up a fight and while on the way learned that a pedestrian was struck by a vehicle in the same area., said Lt. Wayne Harris of the Rochester Police Department. When officers arrived they found a man, whose name was not released, pinned under the vehicle in a parking lot near the intersection, he said. The man was deceased. The female driver struck four other people, who were all taken to Strong Memorial Hospital with injuries that were not considered life-threatening, he said."
According to some at the scene, "Chad" was trying to break up the fight.
The Democrat and Chronicle reports that a vigil will be held tonight at the scene of the incident: "'We're hoping and praying for the families,' said Crystal Henshaw, 28, of Penfield. 'It hasn't hit a lot of us yet.' Henshaw said the man was in his early 20s, and was a well-liked, generous and helpful man. He was also known for his love of music. He had auditioned for American Idol several times, and was 'a phenomenal singer and dancer,' Henshaw said."