In a snippet of an interview to be published in the Philadelphia Gay News today, Barack Obama suggests he would proceed with caution in the repeal of the military's failed 'Don't Ask, Don't Tell' policy: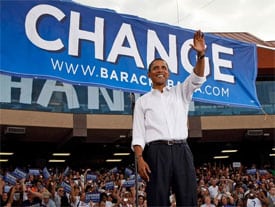 "I want to make sure that when we revert 'don't ask, don't tell,' it's gone through a process and we've built a consensus or at least a clarity of what my expectations are so that it works. My first obligation as the president is to make sure that I keep the American people safe and that our military is functioning effectively…Although I have consistently said I would repeal 'don't ask, don't tell,' I believe that the way to do it is make sure that we are working through a process, getting the Joint Chiefs of Staff clear in terms of what our priorities are going to be."
I'll be interested in seeing the rest of the interview. UPDATE: Here it is.
You may have missed…
Army to Pay Six-Figure Retention Bonus to (Straight) Linguists [tr]
Congress Holds Hearings on 'Don't Ask, Don't Tell' [tr]