Hector Sanchez (pictured), a 19-year-old Jacksonville, Florida man who turned himself in to authorities, says he shot and killed 24-year-old Levi Rollins because Rollins was spreading rumors that Sanchez was gay: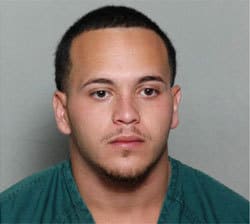 "Sanchez told investigators that he was angry that Rollins was telling people that Sanchez was homosexual and 'he decided to do something about it.' In a taped confession, Sanchez told detectives that he invited Rollins over to smoke some marijuana. After sitting in the parking lot of an apartment complex, Sanchez said he pulled a gun and shot Lopez several times. He told police he went to his apartment, changed clothes, then drove Rollins' car to the cemetery and left."
Rollins' body was not discovered for two days. Sanchez is held at the Duval County jail, charged with murder.