Barclays to purchase portions of Lehman Brothers.

U.S. Circuit Court: Gay man from Jamaica eligible for asylum due to persecution of gays in that country.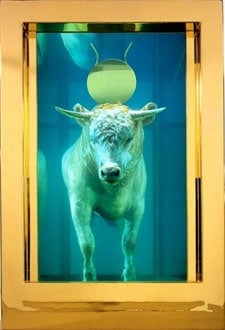 Damien Hirst's "The Golden Calf" sells for £10,345,250: "This was the first time a modern-day artist has offered a new exhibition of work directly for sale at auction, which effectively breaks the link between artist and gallery. But it has already provoked fears that the market will be dominated now by money rather than art, and by auction rooms and 'celebrity artists' rather than galleries. All the signs last night were that the fears were well founded. One of Hirst's celebrated shark-in-a-tank works, entitled The Kingdom, sold to a telephone bidder for £9.56million, more than double the estimate of £4million." Records smashed…

Easy, breezy, beautiful: Ellen DeGeneres is the newest Cover Girl.

Wilde: Dorian Gray shooting in central London…

Prop 8: Interactive map tracks donation for and against.

Donations in support of California gay marriage ban pouring in from Mormons: "Church members, mostly from California, have made individual donations close to $5 million in support of Proposition 8, counting only donations of more than $1,000, according to one Web site…In June, California church authorities read a statement from Salt Lake City leaders over the pulpit that church members 'do all [they] can to support the proposed constitutional amendment.' That has resulted in a mass of donations, said Nadine Hansen, who runs the Web site MormonsFor8.com."

Phyllis Lyon gives first interview following the death of her longtime partner Del Martin: "I've gotten cards from people we knew, and then some from people we didn't know from anywhere. This response just goes to show that there were a whole lot of people who knew about her even if they didn't know her.


GQ throws a bone to the straight men with lesbian fantasies. Cover girl Megan Fox: "Look, I'm not a lesbian. I just think that all humans are born with the ability to be attracted to both sexes. I mean, I could see myself in a relationship with a girl – Olivia Wilde is so sexy she makes me want to strangle a mountain ox with my bare hands. She's mesmerizing. And lately I've been obsessed with Jenna Jameson, but … oh boy."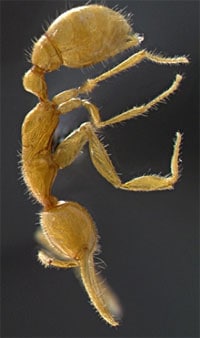 Scientists discover ancient ant in Amazon rainforest: "It represents an old lineage of ants that appeared very early in ant evolution. This shows that tropical soils are widely unexplored and may not only harbour many undiscovered species, but among them also relict species that keep traits from early evolutionary times."

Brighton is top UK city for civil partnerships: "A total of 1,184 ceremonies were held in the city between December 2005 and September this year."

Sarah Palin stonewalling in "troopergate" investigation: "Spokesman Ed O'Callaghan initially said Palin, the Republican nominee for vice president, would not testify as part of the probe 'as long as it remains tainted.' He later clarified his statement to say Palin is 'unlikely to cooperate' with the inquiry."

L.A.'s Outfest to honor Milk, American Beauty producer Bruce Cohen.

Bob Costas talks gays in sports…

Census of same-sex couples in Germany doubles in a decade.

Hotel in Ireland ordered to pay gay couple €3,000 after being found guilty of discrimination: "The case arose after a 'gay-friendly' social was organised by Peter McGuffin and Enda Harte at the hotel for June 5th, 2005, a bank holiday Sunday. The men had previously organised similar events in the Victoria Hotel in Galway, a sister hotel of the Eyre Square Hotel and owned by the same proprietor. They complained that the manager of the Eyre Square Hotel told them 'out of the blue' on June 3rd, 2005, that the hotel owner had said the social could not proceed. The manager said the owner was very angry such an event was being held in his establishment, they claimed."

MTV's TRL signing off…