For many years, children's book author Maurice Sendak lived in what OUT magazine recently described as the glass closet. But yesterday, in an interview with The New York Times, he publicly came out: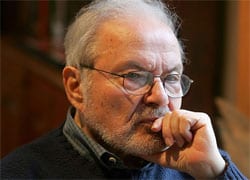 "Was there anything he had never been asked? He paused for a few moments and answered, 'Well, that I'm gay…I just didn't think it was anybody's business,' Mr. Sendak added. He lived with Eugene Glynn, a psychoanalyst, for 50 years before Dr. Glynn's death in May 2007. He never told his parents: 'All I wanted was to be straight so my parents could be happy. They never, never, never knew.' Children protect their parents, Mr. Sendak said. It was like the time he had a heart attack at 39. His mother was dying from cancer in the hospital, and he decided to keep the news to himself, something he now regrets. A gay artist in New York is not exactly uncommon, but Mr. Sendak said that the idea of a gay man writing children books would have hurt his career when he was in his 20s and 30s."
Sadly, it's not an announcement centered around celebration. Sendak, who says a recent triple bypass has left him to weak to work or talk around easily, is also "gripped with grief" for Glynn, who died of lung cancer:
"The illness and setting up of round-the-clock care in their home were just 'so unbelievable,' he explained. Mr. Sendak is mostly finished with it, but he admitted that for the first time, 'I feel extremely vulnerable.' He is afraid — not of death, which is as familiar to him as a child's teddy bear — but of not being able to finish his work: 'I feel like I don't have a lot of time left.' After Dr. Glynn's death, Mr. Sendak said he was 'still trying to figure out what I'm doing here…'I wanted to take his place,' he said. 'His death became a demarcation.' He added that he lost touch with many of his friends, unable to return phone calls and reply to e-mail messages."
Sendak's books certainly brought me much joy as a kid. I wish him the best.