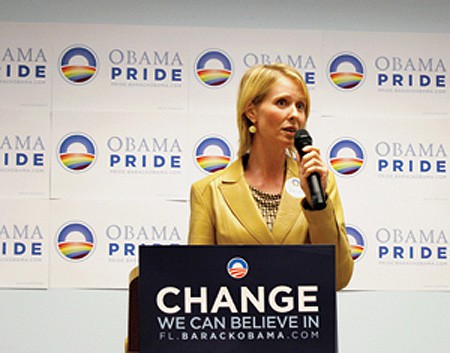 Sex and the City's Cynthia Nixon told a crowd in Wilton Manors, Florida on Saturday that it was her first time ever campaigning for a candidate. Dan Renzi covered the appearance for the South Florida Blade.
Said Nixon: "I understand there are some die-hard Hillary fans out there, who loved her personally, and it meant the world to them that a woman was running, and there was a chance that a woman would be our next President. But I would say, 'What would Hillary do?' Hillary would vote for Obama."
She also cited her efforts as a parent, using some strong language to slam the current administration.
"I have two kids–one is six and one is twelve–and my twelve-year-old daughter has not known anything but George Bush. At least (adults) have a memory of somebody different, and a prospect that there will be somebody different in the future. It's been horrible for her to listen to the President, and listen to this fear-based, war-mongering, torture-supporting, homophobic, anti-immigrant bullshit."
Go Cynthia!
The New Activist [south florida blade]