WTC site buildings to rise by 2012, developers say…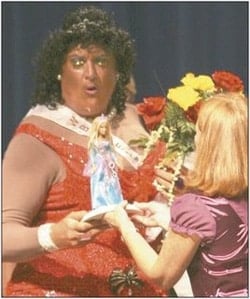 Kansas mayor wins prize for appearing in blackface drag…

Annie covers Stacey Q's "Two of Hearts".

Church trial begins for Presbyterian minister Janet Edwards, who stands accused of marrying a lesbian couple in 2005.

Protestors in Orlando target Magic owner over his support of anti-gay marriage amendment: "The protesters were calling attention to DeVos' contribution of $100,000 to Florida4Marriage, a group that supports Amendment 2, which would add the existing ban on gay marriage to the state constitution. Opponents say the measure could also deny domestic-partnership benefits for unmarried couples — gay and straight. 'He's the biggest contributor to the amendment from Orlando,' said Jennifer Foster, who helped organize the protest, which drew about 30 people. 'And he's getting $1 billion in taxpayers' money to build the arena. That sends a bad message.'"

Liar: Mario Lopez said his shirtless days were over.

Russell T. Davies (Torchwood, Queer as Folk) to present £25,000 prize at gay and lesbian Iris Prize Festival in Cardiff Wales this weekend. Said Davies: "This year's shortlist includes work from an astonishing 11 countries, which confirms that gay and lesbian film making is alive and kicking around the world! I'm thrilled that so many of the film makers are making the trip to the festival and I'm sure that Cardiff will be a very special place with Iris and all her friends."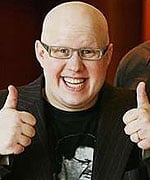 Little Britain's Matt Lucas to play Tweedledee and Tweedledum in Tim Burton's Alice in Wonderland, scheduled for a 2010 release. Shooting is currently underway.

Broadway actor Nick Adams appearing as Rocky in The Rocky Horror Picture Show at The Lyric theatre in Oklahoma City: "…once again, I 'm wearing nothing."

David Letterman: Top Ten Things Overheard at Sarah Palin's Debate Camp.

Larry Flynt producing Palin porn film.

Court date pushed back for Vancouver gay basher: "Appearing briefly in provincial court Tuesday on behalf of the accused, Danny Markovitz, Kandola's lawyer, asked that the matter be put over so that he may have full disclosure before proceeding with the case. To date, he said all he has been provided with is a copy of the victim's police statement." Attack inspires another Vancouver gay bashing victim to come forward.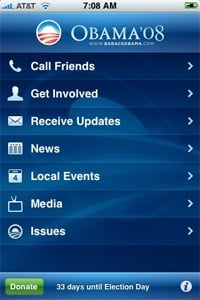 Obama takes campaign to the iPhone: "Over the weekend, the campaign launched a volunteer-developed application that iPhoners can download. 'Obama '08', which is free through the Apple.com iTunes store, features several options aimed at supporters and undecided voters.

May contain nuts: Chef releases testicle cookbook.

Steve Fossett ID card, items found in remote area of California: "They found some miscellaneous ID and actually some cash in the area, and the ID has the name of Steve Fossett on it. We're not certain that it belongs to Steve Fossett but it certainly has his name on the ID which are some miscellaneous pilots and/or aircraft licenses. We found no wreckage. We have found a sweatshirt in the area as well. And it's certainly been out in the area for some time as it's quite faded." UPDATE: San Diego firefighter jurors deliberate for full day, begin again…

Racial and homophobic abuse from fans directed at footballer Sol Campbell under investigation.

High school student wins national writing award for piece about lesbian moms: "Described by foundation and contest organizer Bobbi Carducci as a brave account of a nontraditional family, Aitken-Young's 1,900-word essay 'Unequal' is broken into short chapters that explore how a female character raised by a lesbian couple deals with homophobia from a young age until she is a grandmother. 'She took a rather controversial subject and wrote about it beautifully,' Carducci said. Read it here.