The Delhi High Court on Wednesday demanded scientific evidence and not religious texts as justification for the country's continued criminalization of homosexuality: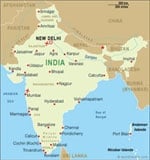 "The court's observation came while hearing a PIL filed by gay activists seeking to decriminalise gay sex among consenting adults. Additional Solicitor General P P Malhotra, appearing for the Centre, cited an article which contained quotes from religious texts to justify the ban. Not satisfied with the Government contention, the Bench, also comprising Justice S Muralidhar, asked the government to show scientific proof that gay sex is harmful to society. 'This is just one-sided version of a religious body which cannot be relied upon. This is part of religious doctrine. Show us some scientific report which says that gay sex should be criminalised,' a Division Bench headed by Chief Justice A P Shah said."
In September, the Indian government reaffirmed its position supporting the criminalization of homosexuality.
Previously
Indian Health Minister Seeks Decriminalization of Homosexuality [tr]