Joe Biden responded to an interrogation by WFTV-Orlando reporter Barbara West with incredulity as West spewed a relentless barrage of right-wing talking points. Said Biden: "I don't know who's writing your questions."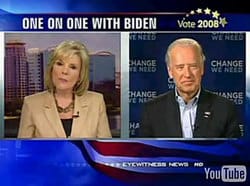 ANCHOR: How is Senator Obama not being a Marxist if he intends to spread the wealth around?
BIDEN: Are you joking? Is this a joke? Or is that a real question?
ANCHOR: No. That's a question.
BIDEN: He is not spreading the wealth around. He is talking about giving the middle class an opportunity to get back the tax breaks they used to have.
Watch it, AFTER THE JUMP…
The Obama campaign cancelled a scheduled WFTV interview with Jill Biden as a result.