Conservative Harper wins re-election in Canada.

L.A. Mayor Antonio Villaraigosa gives $25,000 to fight Prop 8: "We need to redouble our efforts now to match the flood of money raised by supporters of Prop 8…the America of my dreams includes everyone, not just a few."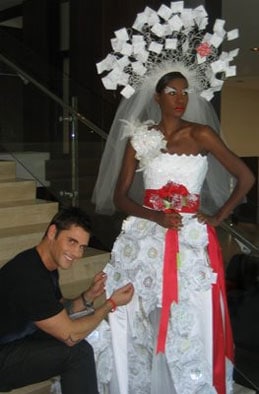 Project Runway designer Jack Mackenroth's condom couture for tomorrow night's Project Inform fundraiser in San Francisco.

Desperate Housewives and QAF star Gale Harold seriously injured in motorcycle accident.

White House memos endorsed CIA waterboarding: "The Bush administration explicitly endorsed the use of waterboarding and other harsh interrogation methods against al Qaeda suspects in a pair of secret memos to the CIA in 2003 and 2004, The Washington Post reported on Wednesday. The previously undisclosed classified memos were requested by then CIA Director George Tenet more than a year after the start of the secret interrogations, the newspaper reported, citing administration and intelligence officials familiar with the documents."

REBOUND: A-Rod and Madonna are tighter than ever.

New York appeals court to hear challenge to same-sex marriage decision today.

Death in Batman-land: Gotham City says good-bye to music maker.

ACORN: The Republican voter fraud hoax.

GLSEN report: "More than 86% of the 6,209 middle- and high-school students surveyed said they'd experienced harassment at school in the past year, and about 60% felt unsafe at school because of their sexual orientation."

Hundreds gather in Minneapolis to remember Matthew Shepard.


Brazilian mayoral candidate uses gay-baiting in ads: "Is he married? Does he have children?"…"The Lesbian, Gay, Bisexual and Transgender Committee formed to rally support in the gay community for Marta's candidacy released a statement on Monday denouncing the advertisements as 'wrong and unacceptable'. The controversy is all the more surprising as Marta is a former sex therapist and was one of the first politicians in Brazil to align herself with the gay community."

Tyson Beckford, Christina Aguilera dazzle at Africa Rising event.

The body's anti-HIV enzyme explained: "APOBEC-3G is present in every human cell. It is capable of stopping HIV at the first step of replication, when the retrovirus transcribes its RNA into viral DNA…If APOBEC-3G works so well, why do people get AIDS? Because the HIV virus has evolved to encode the protein Vif, known as a "virulence factor," that blocks APOBEC-3G."

Killer of transgender woman gets five years: "Defense attorney Brian McMonagle had contended that the shooting occurred during 'pandemonium' in the car after Oates felt King's penis, after the two struggled for Oates' gun and after King moved toward Oates, according to the newspaper's report."

Anti-gay GOP Virginia Congressman Virgil Goode earmarked $150K for theater tied to his campaign manager's Linwood Duncan's gay sex and drug film.

Mark Foley's Democratic replacement caught up in new sex scandal: "The congressman's alleged extramarital affair with a staffer and promise to pay her $121,000 to avoid a lawsuit was reported Monday by ABC News."

South African man arrested for gay sex video blackmail: "The 44-year-old businessman, who has not been named, has already paid out more than R40000 in cash after being filmed at a Summerstrand home. Police believe more men may have been targeted. Zimbabwe-born Shepard Tito appeared in the Port Elizabeth magistrate's court yesterday on charges of extortion after he allegedly targeted high-profile businessmen to set up meetings where they were taped engaged in sexual acts with men."