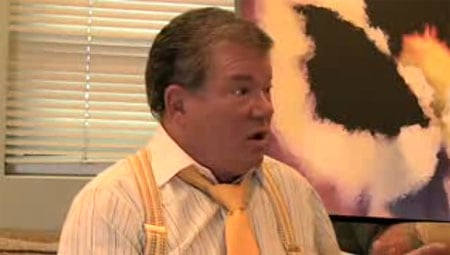 In a video posted to his website, The Shatner Project, Star Trek's William Shatner lashes out at his former co-star George Takei, who recently married his partner of 21 years, Brad Altman.
Watch Shatner's clip, AFTER THE JUMP…
Shatner's ego is apparently deeply bruised that Takei didn't invite him to his wedding.
Says Shatner: "The whole thing makes me feel badly, poor man. There is such a sickness there. It's so patently obvious that there is a psychosis there. I don't know what his original thing about me was. I have no idea. I didn't read his book that was printed many years ago, but apparently I didn't let somebody have a close-up. I literally don't know him. I didn't know him very well on the series. He would come in for a day or two, as evidenced by the part he played. Then on the movies, there occasionally. I didn't know the man. But he has continued to speak badly about me for all these years. Obviously, hiding his homosexuality – talk about festering and not living the truth of your life and feeling badly about yourself – and being fearful somebody would find out about this terrible, terrible secret, so he thought."
Shatner adds: "Finally at the age of, I think, 70, he decides to come out of the closet and say, 'I'm gay.' Like, who cares? Be gay. Don't be gay. That's up to you George."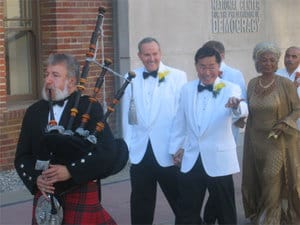 He continues: "You would think there would be an epiphany at some point, where George might have said, 'Poor Bill Shatner. He's such a lonely, desperate, unhappy man that he did all these terrible things to me.' Which I can't remember. I presume he can remember all these terrible thing I must have done when I said, 'Hello' or something to him. You would think he had this epiphany and say – because he and I don't have many years left in this world – 'I wish him well. I'm so happy that I wish him well.' But instead what he does is he makes this big deal about not inviting me to his wedding. If I was such a terrible force in his life – even some 40-odd years later, because I've not seen him – that I effect his marriage where he has to isolate it, what kind of sickness is going on in the man?"
Shatner concludes: "There must be something else inside of George that is festering and makes him so unhappy that he takes it out on me – in effect a total stranger. Why would he go out of his way to denegrate me? It's sad that the man can't find enough peace in his life to either say 'Be positive' and say 'I forgive him, whatever those hurts were', or to shut up about it. It's sad. I feel nothing but pity for him."
In fact, what Takei said, was: "Our contact list has, like, 3,500 names, so we have to whittle it down and I don't know if William Shatner is going to make the cut. He's a wonderful actor. No one could have created the character Capt. Kirk the way he brought his singular metabolism to the character. Kirk and Shatner both have this grand ego of sense of self. He sits there in the center of the set and he revels [in] it."
Given this diatribe by Shatner, I'd have to agree with Sulu!
Watch Shatner's clip, AFTER THE JUMP…