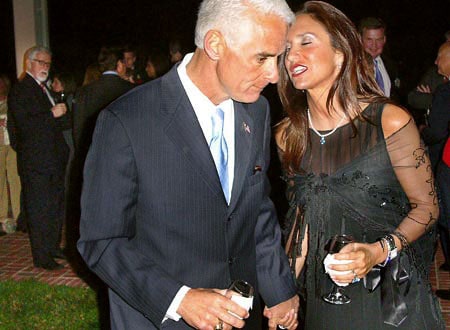 By "gay" I mean "happy" of course. Florida Governor Charlie Crist's marriage next month to Carole Rome will ensure he has a lifetime supply of beards, and well, perhaps that's why it'll be so happy.
"The Dec. 12 nuptials will take place at First United Methodist Church, where the governor and his family have worshiped for years. The ceremony is black-tie optional, with a reception afterward at the Renaissance Vinoy Resort. Invitations began arriving last week. They are cream and pale pink, printed in Copperplate script, and sealed with a capital 'C' affixed to a satin ribbon. An enclosure card reads: "No gifts please, due to Florida law." The governor is required to report presents thought to be worth more than $100, except those from family members."
Gays can't marry in Florida because of the recently-passed (Crist-endorsed) ban, but the governor can. Looks like he finally found the right one.
Previously
Florida Governor Charlie Crist Says He Supports Gay Marriage Ban [tr]
GOP Strategist Peddling 'Charlie Crist Sex Tape' to Kill Gay Rumors? [tr]
Jeb Bush Blocks Reporter Questioning Charlie Crist's Sexuality [tr]
Fla GOP Gov. Candidate Charlie Crist: I Never Had Sex with a Man [tr]
Opponent Outs Florida Gubernatorial Candidate Charlie Crist [tr]