The Miami Herald reports that Miami-Dade Circuit Judge Cindy Lederman has declared Florida's gay adoption ban unconstiutional: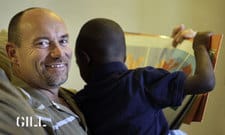 "In a 53-page ruling, Judge Lederman said, 'It is clear that sexual orientation is not a predictor of a person's ability to parent.' Two lawyers from the Florida Attorney General's Office said they would file an appeal Tuesday. 'We respect the court's decision,' said Assistant Attorney General Valerie Martin. 'Based upon the wishes of our client, the Department of Children & Families, we will file an appeal.' Gill, who is raising the half-brothers, ages 4 and 8, said he was 'elated' by the ruling and 'I cried tears of joy for the first time in my life.'"
Gill can now adopt the boys he has cared for since 2004.
The AP reports: "Florida has one of the strictest bans on gay adoptions in the country. A judge in Key West ruled in September that the ban was unconstitutional, but that ruling has had limited legal impact. Attorneys for the state said they would appeal Lederman's ruling. The appeal will ultimately decide what happens to the state ban in place since 1977.