Dwight DeLee, a 20-year-old Syracuse man attending a Friday night party where guests were making anti-gay remarks about two of the party's invited guests, brothers Mark and Moses Cannon, stepped out of the party when the Cannons arrived and shot Moses, who identified as female and was known as to friends and family as 'Teish', point-blank with a 22-caliber rifle. Both Cannon siblings are gay Mark was grazed by the bullet and Teish was killed: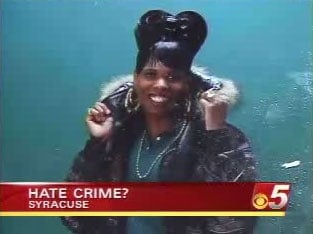 "Cannon, 22, and his brother, Mark Cannon, 18, both of 404 Arthur St., were shot as they sat in a car parked in front of 411 Seymour St., where they had been invited to a party. The bullet grazed the left arm of Mark Cannon, who was in the driver's seat, and hit Moses Cannon in the chest, police said. Police have charged DeLee, 20, of 420 Gifford St., with second-degree murder. DeLee went into the home at 411 Seymour St. to get the rifle after guests at the party started "making profane and vulgar comments in regards to the sexual preference of our two victims,' police Chief Gary Miguel said. 'There was no previous argument between these individuals, there was no previous fight, there was no bad blood,' Miguel said. 'Our suspect took a rifle and shot and killed this person, also wounding his brother, for the sole reason he didn't care for the sexual preference of our victim. Isn't that sad? Isn't that a sad situation that that's the sole reason why? I talk to you about this atmosphere of violence and that certain individuals believe that violence is the answer no matter what, and here's just another example,' Miguel said."
Cannon family and friends accepted Teish's choice of gender identification and sexual orientation.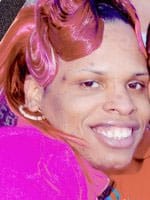 [Roxanne Green, the victim's mother] talked lovingly about Moses Cannon and said she accepted who he was. 'That's the life he chose. That's who he wanted to be,' Green said about her son. Green said her son was very outgoing. 'He got along with everybody,' she said. Cannon's family accepted his sexual orientation. Pictures of Cannon in women's clothing were on display in the family's living room, and the family selected one for The Post-Standard to publish. Often when family members spoke of Cannon, they used 'she' to refer to him. Dante Haynes, who described himself as Cannon's lover, sat at the dining room table tonight with Cannon's parents and family. 'Teish' is tattooed on his right forearm. 'I loved her, too,' Haynes said. 'She will be missed.'…'Teish was loving, caring and compassionate,' said Rhonda Gary, Cannon's aunt. 'She carried herself with respect.'"
The incident has not yet been classified as a hate crime, although that looks likely.
Syracuse man was killed for being gay, police say [syracuse now]
Police: Shooting Victim Targeted For Being Gay – VIDEO [wtvh]
Family says Moses Cannon was shot because he was gay, and his killing should be treated as a hate crime [syracuse now]