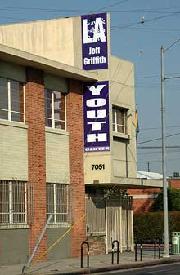 In the late '70s, as now, Los Angeles was the number one destination for young men whose parents had kicked them out of their homes because they were gay. They came from all over the country, many of them mysteriously bearing maps leading them to a now long-gone hotdog stand on Santa Monica Blvd. called Danny's Dogs, known as a hangout for gay street kids. It was like an "underground railroad," except that the freedom it led them to was homelessness and life on the streets.

Just around the corner on Highland Ave. in Hollywood, housed in a converted motel, was the L.A. Gay Community Center (as it was known then). Homeless youth, drawn by a sign that actually had the word "gay" in it, began gathering in the Center's parking lot. It was a place of no judgment where they could safely hang out. Unfortunately, at that time the Center had no resources that could change their life circumstances, save for some volunteer-led rap groups.
Today, young LGBT people who have been rejected by their families and communities still come to Hollywood from around the country and find their way to that same stretch of Santa Monica Blvd. Many of them are former foster youth who, in addition to having been forced out of their homes because of their sexual orientation/gender identity, have been physically and mentally abused, are using or abusing drugs, and have had to resort to "survival sex" for food and shelter.
Unlike the Center of the '70s, today's L.A. Gay & Lesbian Center offers a wide-range of services for homeless LGBT youth, including a 24-bed transitional living program and emergency beds for those in immediate crisis. At our youth center, open 7 days/week, they get such basics as three meals a day, clothing and showers, as well as education and job-preparation programs to help them transition from life on the streets to housing and self-sufficiency.
Despite advances made by the LGBT community over the past three decades, LGBT youth and those who are questioning their sexual orientation/gender identity are still at risk of discrimination/violence in schools and rejection by their family, leading many to the streets where they must struggle for survival.
Until our youth are as accepted as all other young people, the Center will be here to fight discrimination, advocate for equality, and provide the support and care that homeless youth need to make it on their own.