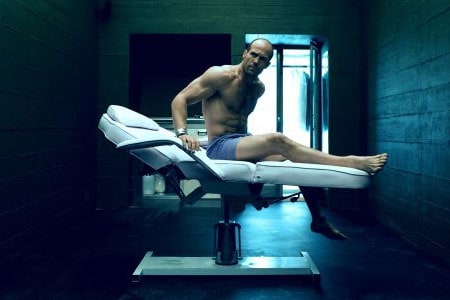 Chris Lee writes about a gay action hero that went by the wayside:
In 2005, Louis Leterrier, the director of 'Transporter 2' (and also credited as 'artistic director' of the first 'Transporter') told me he created a gay subtext for the character so as to avoid making a 'Steven Seagal kind of movie.'…'If you watch the movie and you know he's gay, it becomes so much more fun,' Leterrier said then. 'It's so great — the first gay action movie hero!' He continued: 'Action fans in general are pretty homophobic. You see these tough guys who say, ' 'The Transporter,' that's such a great movie!' If they only knew they're really cheering for a new kind of action hero.' And to drive his point home, he mentioned a scene in 'Transporter 2' in which a drug czar's wife, played by Amber Valletta, makes romantic overtures toward the Transporter. Martin rebuffs her, explaining, 'It's because of who I am.' Letterrier's take on that? 'That's him coming out!' At the time, Jason Statham, who plays the Transporter, dismissed the director's claims. 'It's just Lou-Lou trying to be funny,' Statham said, using his private nickname for Leterrier. 'Although he did say, 'In Part 2, you will become the gay icon.''"
In Transporter 3, Lee notes, Statham's character makes out with a woman for the first time. Perhaps it's just a phase.