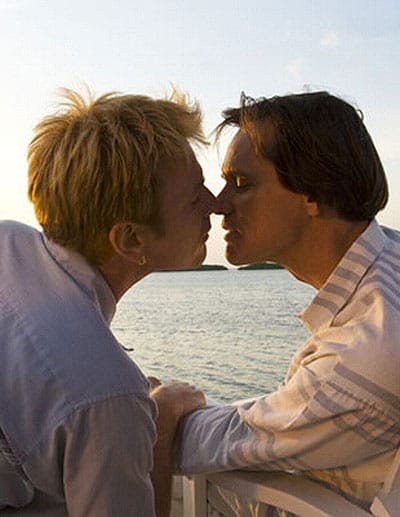 A new trailer for I Love You Phillip Morris has been released.
In the film, an adaptation of the Steve McVicker novel I Love You Philip Morris, Jim Carrey plays Steven Russell, a married father/conman who finds himself in the Texas prison system where he falls in love with his cellmate Phillip Morris. The romance prompted four escape attempts and a lifetime jail sentence for Russell.
Although it's being released during the traditional dump time for films (the depths of February) I'll hold out hope that the swishiness Carrey is putting forth in this trailer is just another one of his character's cons, though the scene of Carrey and McGregor having a cuddle-fest during a prison screening of the movie Ghost doesn't give me much.
Watch it, AFTER THE JUMP…
Previously
I Love You Phillip Morris Billboard Up in Cannes [tr]
Jim Carrey and Ewan McGregor Have Windblown, Key West Romance [tr]
Jim Carrey and Rodrigo Santoro Play Gay in I Love You Phillip Morris [tr]
Ewan McGregor and Jim Carrey to Make Love in Prison [tr]