A Facebook Group with nearly 2,000 members has sprung up in support of Portland Mayor Sam Adams, whose recent confession that he had a consensual sexual relationship with another adult male but lied about it during his campaign appears to have divided the city and has prompted calls for his resignation and a criminal investigation.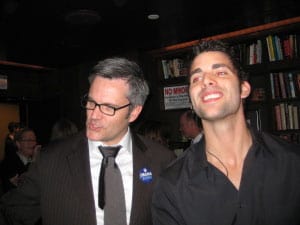 There is a rally in support of Adams tonight at Portland City Hall at 5:30, organized by "Sam Adams supporters who feel that his two decades of committed service to the city of Portland by far outweigh his honesty about the details of his (legal and consensual) sex life. Our trust is not broken because he made a mistake when cornered with an inappropriate question."
Adams said yesterday that the public will know 'within days' if he will resign:
"Adams did not appear in public Thursday but told The Oregonian he spent much of the day with his pastor and with his mentor, former Portland Mayor Vera Katz. 'It's important that I learn the lessons that need to be learned regardless of what I decide,' said Adams, who apologized at length to Portlanders Tuesday."
Byron Beck, who has written for Portland's alternative weekly Williamette Week and considers Adams a friend, said on his blog, "It's unfortunate that gays, women and African Americans have to be held to a different standard than straight, white middle class males." Beck snapped the photo of Adams with Beau Breedlove in 2008.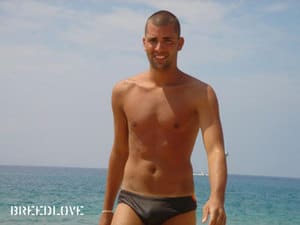 Breedlove, the former legislative intern who had the relationship with Adams, released a statement earlier this week (as his MySpace page was being mined for photos like the one at left):
"The past day of news coverage regarding my brief 2005 relationship with Mayor Sam Adams has been stressful, to say the least. I would like to publicly apologize to those who were negatively affected by my mishandling of the situation during the 2007 mayoral campaign. Reflecting back, I regret misleading anyone about the nature of the relationship. When the subject first surfaced during the campaign, I was living out-of-state and I did not anticipate the impact it might have on Portland's mayoral campaign. While my first instinct was to tell the truth, I also wanted to protect Sam Adams' reputation, considering our valuable friendship. Sam Adams has always been a positive influence and friend to me. He has many outstanding qualities to bring to his position as Mayor of the City of Portland and I wish nothing but the best for him. I hope this subject can ultimately be put to rest and I sincerely believe in Sam Adams and what he can do for the city of Portland as Mayor. Again, I truly apologize to those were affected by my mishandling of the situation in 2007. Sincerely, Beau Breedlove."
Background
Portland Police Ask Oregon AG to Investigate Mayor Sam Adams [tr]
Portland Oregon's Gay Mayor Sam Adams Admits Sexual Relationship With Teenage Former Staffer In 2005 [tr]
Portland TV On Adams Controversy [tr]
Portland Swears in Gay Mayor Sam Adams [tr]
Portland Elects Openly Gay Mayor Sam Adams [tr]
Gay Man Accused of Smearing Another in Portland Mayoral Race [tr]