It's not pretty.
In a must-read piece in The Daily Beast, Max Blumenthal notes that, "[Rick] Warren's defense against charges of intolerance ultimately depends upon his ace card: his heavily publicized crusade against AIDS in Africa."
Blumenthal looks deeper into Warren's activities in Africa in the name of AIDS, his ties to anti-gay Anglican religious figures, and his tacit endorsement of condom-burning and anti-gay 'witch hunts' in Uganda.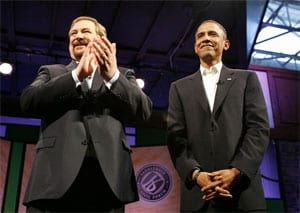 A couple of excerpts:
"But since the Warren inauguration controversy erupted, the nature of work against AIDS in Africa has gone unexamined. Warren has not been particularly forthcoming to those who have attempted to look into it. His website contains scant information about the results of his program. However, an investigation into Warren's involvement in Africa reveals a web of alliances with right-wing clergymen who have sidelined science-based approaches to combating AIDS in favor of abstinence-only education…Warren's man in Uganda is a charismatic pastor named Martin Ssempa. The head of the Makerere Community Church, a rapidly growing congregation, Ssempe enjoys close ties to his country's First Lady, Janet Museveni, and is a favorite of the Bush White House. In the capitol of Kampala, Ssempa is known for his boisterous crusading. Ssempa's stunts have included burning condoms in the name of Jesus and arranging the publication of names of homosexuals in cooperative local newspapers while lobbying for criminal penalties to imprison them."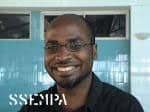 More:
"With safe sex advocates on the run, Warren and Ssempa trained their sights on another social evil. In August 2007, Ssempa led hundreds of his followers through the streets of Kampala to demand that the government mete out harsh punishments against gays. 'Arrest all homos,' read placards. And: 'A man cannot marry a man.' Ssempa continued his crusade online, publishing the names of Ugandan gay rights activists on a website he created, along with photos and home addresses. 'Homosexual promoters,' he called them, suggesting they intended to seduce Uganda's children into their lifestyle. Soon afterwards, two of President Yoweri Museveni's top officials demanded the arrest of the gay activists named by Ssempa. Terrified, the activists immediately into hiding."
This is what Rick Warren stands for, embraces, and he will be blessing our nation's next presidency.
The Truth About Rick Warren in Africa [the daily beast]