Looks as though a certain longstanding West Village gay bar has become the hotspot for straight celebs to mingle with gays in New York. In December, Gossip Girl's Ed Westwick was spotted there, and last night Guy Ritchie apparently exercised his vocal chops there: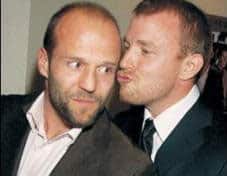 Page Six reports: "Madge's ex, who's in town directing 'Sherlock Holmes,' hit Marie's Crisis, the venerable Grove Street gay haunt where customers sing show tunes. While Madonna was busy elsewhere in town posing for pictures with her new boytoy, Jesus Luz, Ritchie sang along to 'Tomorrow' from 'Annie' with 'two hot chicks and a gay guy,' our witness said"
And no, the gay guy wasn't Jason Statham, or Ed Westwick.